February 3rd, 2009 by
david brothers
| Tags:
afro samurai
,
black history month 2009
,
Colored Commentary
,
japan
,
music
,
rap
I really enjoyed the new volume of Afro Samurai. Resurrection stripped out all of the dross from the first Afro Samurai film. Romance subplot? Gone. Meandering explanations? Gone. Light characterization? Gone. What was left was a lean exploitation flick in the style of Ninja Scroll or Fist of the North Star.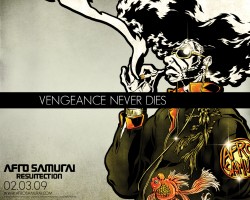 I may speak on Afro (and Ninja Ninja) later this month, but Afro Samurai kind of exemplifies something I love about black, or rap, culture. It's universal. It went from being something that wouldn't last twenty years to one of the most dominant forms of music on the planet. Who did Britney Spears, all-american girl, go to when she wanted a hit? Timbaland and Pharrell. Rap has infested pop and dance music to an amazing level.
Looking fresh is still a huge part of rap culture and one of the biggest meccas for streetwear fashion is… Tokyo. I spent a week in Tokyo back in October and man, I could've spent thrice what I did on clothes and sneakers. I came home with two different books that were basically sneakerhead fetishism. Kids in fitted Yankees New Eras hit me with the head nod as I walked past and I bonded with these two dudes who didn't speak a word of English other than "B.I.G." and "Nas." I used to live in Spain, I've been to France, and found rap fans in both places.
It's worldwide, and that's a beautiful thing. People talk about Obama getting elected as if it was the end of racism. Well, that's dumb. Obama being president isn't going to change racism. But, right now, there are whole countries full of kids growing up in and around black culture, repping it like it was their own. In a way, they have made it their own by accepting it and modifying it to fit their own culture. These kids identifying and learning from each other because they have that common ground… that's where post-racialism is going to come from. Not from one man doing one thing. It's going to come from sharing cultures.
It's not going to be a flip of a switch. It's not going to be as easy as declaring "mission complete!" or just up and deciding that we're post-racial. There's got to be give and take and push and pull and just something deeper than mere co-existing before post-racialism happens. This is part of why I think that having the two biggest superhero comics out actually represent their audience, and real life, is vital.
Similar Posts: