February 12th, 2009 by
david brothers
| Tags:
black history month 2009
,
Colored Commentary
,
garth ennis
,
john constantine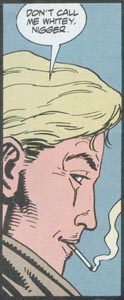 Yeah, that's Vertigo's longest running main character John Constantine getting his Kramer on right there.
I thought about getting tricksy and putting the rest of this entry behind a cut to get your interest and see what's up with John C getting all British National Party on us, but I'll just go ahead and say that there's a plot twist toward the end of this post. Oops, spoilers!
I've talked about context before, but I want to revisit it with a slightly less flippant tone this time around. Do read that post, however, as I think it makes a very good point about lists of items with no discussion or commentary.
Tropic Thunder was one of my favorite movies last year, if not my absolute favorite. It was definitely the movie I saw the most, with three times in the theater and a few more times once the Blu-ray dropped. Part of it was that I cried the first three times I saw it from laughing so hard. The other part was that it was one of those features that butts right up against race and doesn't back down, resulting in something brave and interesting.
The surface value reading of Tropic Thunder, the kiddy pool reading, is that it's a movie that features blackface, an ignorant and offensive portrayal of a black person by a white person. It was used to keep black people from roles in motion pictures.
The problem is that, in the context of the movie, that isn't what Tropic Thunder is about at all. Instead, it's about the amazing self-centeredness of actors, a self-centeredness that allows an Australian actor to think that it's a good idea to dye his skin and pretend to be what he thinks a '60s era black man was like.
Brandon Jackson, who plays rapper Alpa Chino, comes into major conflict with Robert Downey Jr's character throughout the movie. He calls him out regularly, even going so far as to say that there was one good role in the movie for a black man, and "they gave it to Crocodile Dundee." It sets up an interesting and surprisingly deft commentary on race, actors, and Hollywood. Race is treated as a commodity, something to be bought and sold.
RDJ's authentic impression of a man doing an inauthentic impression of a black guy probably hits its peak when he goes off about how he's going to collar up some greens, y'all, you realize that he's working from a stereotype and just didn't bother to actually see what real black people are like.
John Ridley says this in response to a columnist suggesting that there is no situation in which a blackface performance is at all acceptable:
Really? Can't imagine any circumstance to use the word Nigger? You mean, like in a Ralph Ellison novel?

Trustees of the Liberal Plantation aside, Downey Jr.'s performance is sharp, smart satire. Clever, but aimed squarely for the gut, in the way the New Yorker's Barack/Michelle-as-radicals cover was aimed at some other Brahmin organ that giggles with delight when it's self-manipulated.
Nothing's taboo. I don't know that there's a single subject out there which isn't worthy of examination. Some comics have dealt with rape in terrible ways. Others, like The Slavers, leaves you feeling angry and pessimistic because it's real. Same with racism, sexism, or anything else. The only barometer for what's appropriate or not is the level of quality. If it works, it's fine. If it didn't work? Try again, kid.
This brings me right back around to comics. When is it appropriate for John Constantine to say nigger?



When he's speaking to a friend he has history with, both of whom have just been through hell in a very literal sense of the word.
Context.
Similar Posts: