March 15th, 2008 by
david brothers
| Tags:
justice league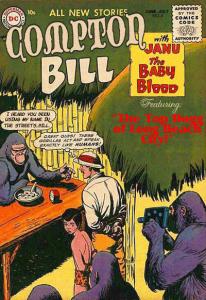 monthly, from dc comics!
I have got to stop talking to this guy. I'm going to get into trouble.
david: I want to start a new line of faux Golden Age comics like Congo Bill and Tarzan
david: about one lone white dude standing vigilant against the dark skins of the inner city
david: Compton Bill
pedro: ha ha
pedro: compton bill is awesome
pedro: oh god
david: i might have ot make another cover 🙁
pedro: i want that comic so badly
pedro: but compton bill should be about an old dude who joins the bloods
pedro: it's the only way to survive in the neighborhood
For those who do not get the joke: Tarzan, Congo Bill, every jungle girl movie ever, Jungle Book, and other stories were essentially all about what Rudyard Kipling called "The White Man's Burden." Bringing peace, light, knowledge, and lots of guns to countries populated by brown skins and shooting them until they give up.
Sorry, that was a little cynical. I don't read Kipling for the same reasons I don't read Lovecraft. Let me let wiki tell it:
At face value it appears to be a rhetorical command to white men to colonize and rule people of other nations for their own benefit (both the people and the duty may be seen as representing the "burden" of the title). Because of its theme and title, it has become emblematic both of Eurocentric racism and of Western aspirations to dominate the developing world.[8][9][10] A century after its publication, the poem still rouses strong emotions, and can be analyzed from a variety of perspectives.
The trope of "One Lone Lantern-Jawed White Guy (and possible Jaguar Skin Clad Lady Friend) Kicking Savage (or Gorilla) Butts In Africa" used to be a common one in movies (hello 10,000BC how are you doing while I am over here not watching you) and even more common in fiction.
I just thought I'd update it a little bit. You know, revamp, reboot, and relaunch with a new #1. It was brought on by this, wherein we find out that James Robinson is getting a new Justice League series and introducing a '90 year old Congo Bill.
Similar Posts: