July 9th, 2011 Posted by Gavok
It's so weird to see this article come full circle. As I said long ago in the prologue, We Care a Lot gained its genesis in a series of posts in a forum that no longer exists. David Brothers was new to blogging and asked me to join him many years ago, citing that I'd be able to repost my Venom essays, finish them and write junk like it. I may have done that latter part, but I never could get back into writing about Venom. At the time, the character I once loved and saw things in that few else ever did had become a dummy used in various stories that for the most part weren't very good. Unlike the "weren't very good" stories from the 90's, these stories actually went and destroyed my interest in him.
Look how far everything's come since then. As Venom, Mac Gargan became a major star in the Marvel Universe for quite a while, got his own miniseries and was a wheel in one of Marvel's top selling books at the time. Now Venom is worn by Flash Thompson and stars in his own comic that has definite staying power (I was going to say that it has legs, but, well…). Eddie Brock has been reborn in a new form with appearances in Spider-Man's main comic here and there, as well as an upcoming Venom crossover. Carnage has come back from the afterlife with a couple miniseries that make the character kind of sort of worth reading. Not only did his return give us yet another symbiote hero character who will fall off the face of the Earth, but a preview of Carnage USA suggested that there'd be some kind of task force made of obscure symbiote characters only remembered by me, the people who've read these articles and maybe six other people. I can only hope.
The whole Venom Family is thriving and comics have evolved in the way that modern writers have a better grasp on what to do with these guys. I've seen a lot of criticism on Dan Slott's Amazing Spider-Man, but I can't fault him on his use of Anti-Venom. The dude just plain gets it. Or he at least gets what I get.
I suppose with Venom, my enjoyment of the character has been almost defining for me. I know some people online might consider me "the Venom guy", for better or worse. I never set out to make readers fully agree with my delight with the character/concept, but I at least wanted to make them understand where I was coming from. I hope that I've at least succeeded in that.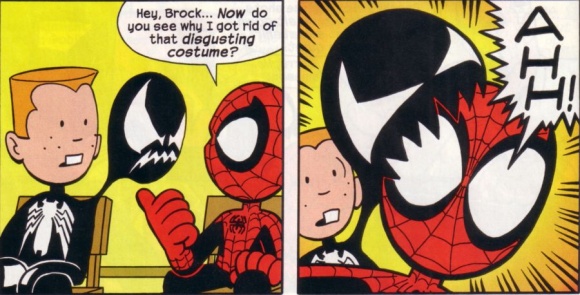 He's a Silver Age concept painted with a 90's extreme paintbrush. Look at the whole symbiote idea. Tell me that that isn't a Silver Age idea that nobody got around to using until they were decades too late. It's a plot device that writers continue to pull new tricks out of their asses for (might I remind you that symbiotes can kill people through the internet?). Yet in the end, it's Eddie Brock who anchors it all. I'm not one of those fanboys who wants him to be Venom again because, "That's the only way it can be." No. I'd rather he be Anti-Venom forever.
When done right, Eddie is someone that writers have yet to scratch the surface of. He isn't like the Punisher. He may kill and justify it, but he isn't dead inside. In fact, he's more optimistic about what he does than most superheroes in their saner exploits. He thinks he's right and sometimes he is, but he's occasionally capable of understanding that he's wrong and can indeed agree with logic every once and a while.
Over the years, Venom has been treated like the redheaded stepchild of Marvel. Tossed around from writer to writer and making appearances that treat him as more of a money-making accessory than an actual character. He's been in some good stories, he's been in a lot of bad stories and he's been in a few incredibly terrible stories. I recognize that. I'm not blind.
I also recognize something else.