January 9th, 2010 Posted by Gavok
Me reading a Captain N comic didn't happen because someone suggested it to me. Nobody told me that there was a Captain N comic. I didn't stumble upon it or come across an issue in a bin anywhere. It's just that one day I randomly reminisced about the cartoon and thought to myself, "Was there a Captain N comic book? I bet there was."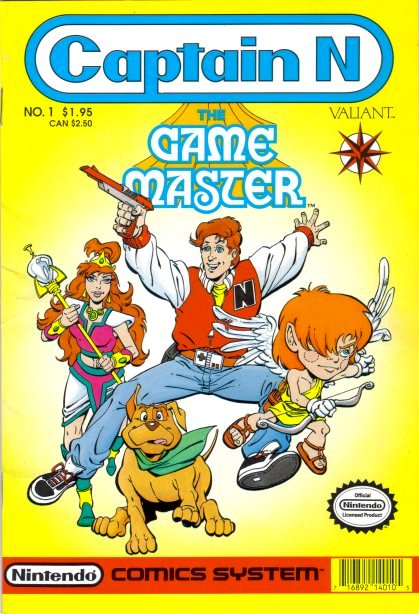 Lo and behold, my instincts were correct. You know I had to get my mitts on this one. The five-issue series came out over the course of 1990, released by Valiant Comics. They released the Game Boy comic around that time, which I've reviewed months back.
To fully understand the comic and what makes it worth talking about, you have to understand the TV show. Captain N: The Game Master is a cartoon about a teenager named Kevin Keene who is so good at playing his NES that he and his dog Duke are pulled into his Nintendo by "the Ultimate Warpzone". It's there that he exists in a multiverse of videogame franchises, even if they weren't Nintendo-owned. Armed with a controller belt buckle and a zapper gun, Captain N fights for the original character Princess Lana along with existing videogame heroes Kid Icarus (aka Pit), Mega Man and Simon Belmont. Those three are probably banded together due to their shared success in having awesome theme music. The main villain is Mother Brain from Metroid, commanding over the Eggplant Wizard, King Hippo, Dr. Wily and the Count (they couldn't call him "Dracula" for whatever reason). Donkey Kong's there too, but he's more of a wildcard villain, like the crocodile from Peter Pan.
In concept, it's a videogame fanboy wet dream. Unfortunately, there were some snags to the show, such as the character designs for the preexisting heroes. Kid Icarus is a midget who won't stop adding "icus" to the end of his sentences, yet he's the least problematic. Mega Man is also a midget, only pudgy and more annoying. They saw how dynamic and cool his 8-bit sprite was and came up with that? Then there's Simon Belmont. Jeeeesus. Instead of a badass vampire hunter, he's a doofy narcissist with pilot goggles. I get that these guys are all based on early 8-bit designs that lacked characterization, but as a marketing ploy, I can't imagine any kid was thinking, "I want to play as that annoying, scratchy-voiced toddler in the green tights!" It got even worse in the third season when they introduced Alucard, re-imagined as a totally radical skater dude.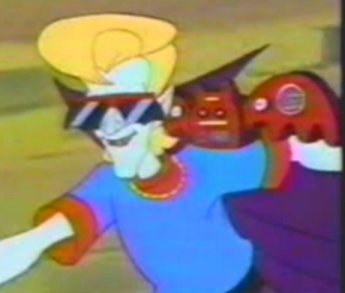 It's like if Poochy wanted your blood.