September 30th, 2010 Posted by guest article
Guest article by Fletcher "Syrg" Arnett.
Probably the biggest sin the Elseworlds line committed is that for every breakout hit or disaster the line produced, there were two or three bland piles of tripe released. Batman got the most Elseworlds, so he got the most dull stories- it's simple probability. Today we're going to start peering at those.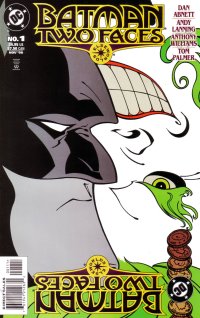 Batman: Two Faces
Written by:
Dan Abnett & Andy Lanning
Art by:
Anthony Williams & Tom Palmer
Focuses on:
Batman
Self-contained/Multiple books:
Self-contained
Published in:
1998
Central premise:
Stretches the "duality of criminals/vigilantes" metaphor to its limit via the use of Two-Face, while Batman is also the Joker (oh like you couldn't guess that from the cover)
Martian Manhunter Out of Fucking Nowhere?
No
To be honest, I think the framing device for this story is a bit clever: inside the Iceberg Lounge, a gentleman's club in late Victorian Era Gotham, Peregrine White and James Gordon swap tales of the bizarre and exciting from their lines of work, sworn to secrecy within the club's walls. This evening, it's Gordon's turn to tell the tale, and he fills in the details on a case that was "the talk of every broadsheet in America" at the time.
There's a recurring theme in a lot of Elseworlds of putting Batman a) in a Victorian-ish time period (fun note: this story takes place three years before the similarly-timed Gotham by Gaslight, the ur-Elseworld), and b) making him some sort of psychologist or similar skillset. Here he's a criminologist "and amateur sleuth" of some renown. It doesn't really have much to do with this story aside from his wanting to help cure the schizophrenia of Harvey Dent, but I just thought I'd point it out, being that this is the first we're getting to that touches on those themes.