May 29th, 2008 Posted by Gavok
The Incredible Hulk, part two of the "Avengers Saga" of Marvel films (there go my nipples again), is on its way in a few weeks. Naturally, Peter David wrote a novelization based on the upcoming movie. Since I did the same for Spider-Man 3 and Iron Man, I went up for round three by picking it up and seeing what it had to offer.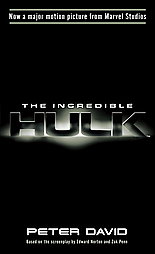 Incredible Hulk is like Ang Lee's Hulk mixed with Superman Returns, only better than each of them. Granted, I did enjoy the older Hulk movie for the most part. I thought most of the stuff involving David Banner was fantastic and found him so sympathetic that I can't even bring myself to call him a villain. But let's be honest, the pacing had problems and there was a huge unbalance in the story where they try to tell the tale of a man's tragic relationship with his father one minute and HOLY SHIT DID YOU SEE WHAT HE DID TO THAT TANK the next.
This new movie is most definitely not a sequel to the Ang Lee production, but like with Batman Begins and the Tim Burton Batman, stupid people will believe they're connected no matter how many changes in continuity they spy. Still, the movie knows what we saw in Hulk and doesn't give us a story based purely on origin. Though the Hulk's origin is different this time around, it's only delved into through explanations and brief flashbacks.
David's book is based on the screenplay treatments of Edward Norton and Zak Penn. That means that it'll be harder to tell how accurate it is to the final product than usual, based on the stories I've heard about the movie's production. For one, Norton had been rewriting scenes on the set just about every day. For two, they decided to make some edits that have pissed him off. Even the little footage I've seen of the movie is different from what the book goes with. Such as that scene where Hulk tears a cop car in half and uses it as boxing gloves. Not only is that not mentioned at all here, but that scene involves Abomination talking. Abomination has no dialogue in the book after his transformation.
This could be a good thing or a bad thing. Truth is, there are a couple minor bits I wouldn't mind changed.