April 12th, 2014 Posted by Gavok
Last Sunday, WWE brought us their 30th WrestleMania, which as you can guess, is kind of a big deal. It turned out to be a blast, unlike much of the last five years. WrestleMania 24 is my favorite, but the only one since that hasn't been below average was WrestleMania 26, which wasn't exactly spectacular. This year's actually felt like something to be excited about going in. The writers did a great job of building up nearly all the matches, from John Cena fighting Bray Wyatt to a battle royal where the winner won a giant Andre the Giant trophy. Hell, that match had better build than this year's Royal Rumble!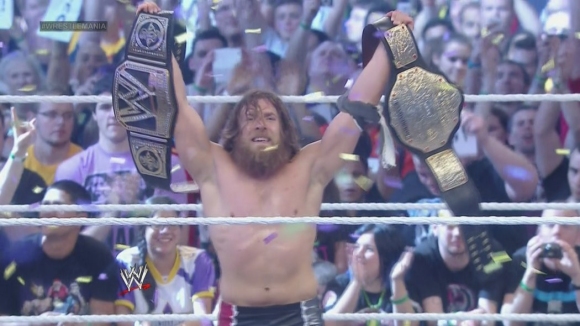 But the real story here was the undercard match of Daniel Bryan vs. Triple H where the winner got to be in the main event triple threat for the title against Randy Orton and Batista, ending in Bryan's climactic double victory. On the surface of fiction, it's a well-written storyline that's been building since August. Hell, it's one of the best main event builds we've seen for WrestleMania in a long time. The thing is, the real story of how this came to be is far more intriguing than what's going on in front of the camera. This has been something built up for years between the wrestlers involved, the fans and some guys who wouldn't be competing at WrestleMania 30.
Let's break it up and look at some of the important players:
THE WRITERS WHO CAN'T BUILD NEW STARS
One of the major problems with WWE in the past few years is their inability to make new names. Writing isn't long-term enough and Vince McMahon – having final say on everything – changes his mind every other minute. Wrestlers who seem like they're catching steam all of the sudden get sidelined due to either bad storytelling or the need to feed them to John Cena. Cena is a wonderful performer and all-around good guy, but seeing him stapled to the top of the program at the expense of guys who could use a major win or two is what turns a lot of people off.
The best example is Ryback, who was getting pushed right up the card as an unstoppable and super popular face monster. They put him into the main event scene and had him compete for the title against CM Punk a few times, but they got cold feet. Sure, Ryback probably wasn't ready to be champ, but WWE put themselves in a bad position by bringing him up so high so fast. So they had him lose. A lot. It kind of hurt his credibility, but he still had some juice. Then they turned him against John Cena, which got a great reaction from the crowd. They couldn't have that, so they made him go out of his way to be an evil coward all of the sudden. Even though his character had a ton of legit reasoning for why he hated Cena, it was swept under the rug by Cena yelling a lot and by the end of the feud, Cena won decisively and removed what was left of Ryback's momentum.
Last Sunday, Ryback was performing in a tag team during the PPV's pre-show.
Other notable names to suffer from the start-stop booking style include Dolph Ziggler, Zack Ryder, Alberto Del Rio, the Miz, R-Truth, Wade Barrett, Cody Rhodes, Jack Swagger, Damien Sandow, John Morrison and Drew McIntyre.
RANDY ORTON
For a while, Randy Orton was the secondary, more intense John Cena. He wasn't quite as popular, but he was still a major deal. Since at the time, WWE had split Raw and Smackdown into two sort of exclusive shows with their own top belts, that meant that they basically had their own "Cena" for each show. Edge was the top name on Smackdown, but he had to retire due to injury. At the following PPV, they had his best friend Christian face Edge's previous challenger Alberto Del Rio for the vacated title. Christian won, which was well-deserved and seen by many hardcore wrestling fans as a long time coming.
They taped the next Smackdown two days later. In it, Orton, who had just joined the Smackdown roster, was granted an immediate title match against Christian and beat him. Yes, not only did Christian's feel-good title reign last two whole days (five in terms of kayfabe, since the show aired on Friday instead of Tuesday), but we weren't supposed to feel bad about it because Randy Orton! Yay! In turn, they eventually made Christian turn heel over this and get his ass handed to him for his troubles.
While Orton lacked the charisma of Cena, he at least was more likely to put people over, which made him more likeable at times. Then his star started to slowly fizzle over time and he was no longer really on Cena's level. He was still fairly popular, but just kind of there. He won the big Money in the Bank PPV match that earned him a title shot whenever he wanted, which led to the events of Summerslam…