July 6th, 2009 Posted by Gavok
Last time on We Care a Lot, I talked about Daniel Way's Venom on-going. Hitting the halfway point, I decided to stop and give myself a break to recuperate. It's good to know that while that series was going on, Venom started to appear elsewhere. And why wouldn't he? The reason he was turned into a full-blown bad guy again was so he could go back to being Spider-Man's threat of the day.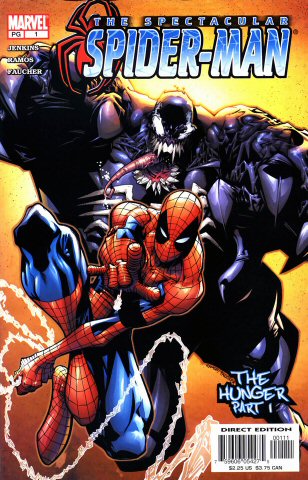 Venom would make his return to Spider-Man's world in Spectacular Spider-Man #1 for a five-issue story called The Hunger. This isn't to be confused with the super-awesome four-issue story from years earlier called Venom: The Hunger, but it usually is. It's kind of funny how although it's obvious Paul Jenkins probably didn't read that Len Kaminski story, he more or less wrote the same story, only with Spider-Man and without the happy ending.
As Paul Jenkins writes the story, we get Humberto Ramos on art. This is rather interesting, considering Francisco Herrera is doing the art on Venom at the same time. A little research shows that Ramos mentored Herrera and that really shouldn't come to a surprise of anyone. Case in point: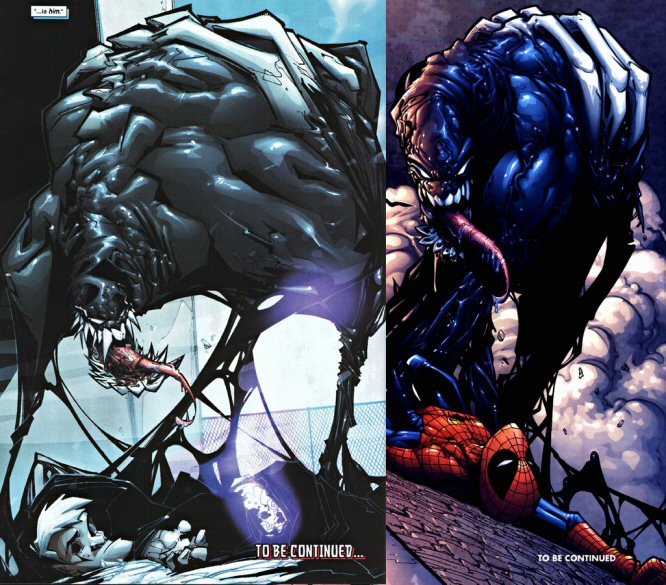 Which came out a month apart.
Though there are parts that annoyed me, The Hunger isn't so bad. If anything, it's easily the most important Venom story in the past 15 years, so you have to give them that. Really. While it introduces some ideas that don't go anywhere, it still gets the ball rolling and leads us to where we are today.