October 18th, 2011 Posted by Gavok
For any new readers, here's the deal. I used to read a lot of DC comics. Then over the years, they lost me to the point that I was only reading about six a month. Over the first six months of their big reboot, I want to see how strongly they can hold onto my interest. Week-by-week, I'm looking at what I want to keep, what I don't and what I'm on the edge about. As it is right now, I'm still reading 37 of their new titles, but it likely won't last.
More DC books hit their #2 issue this week. Of the stuff that came out, I've already done away with Batgirl, Legion Lost and Mr. Terrific. That leaves ten books.
First is Batman & Robin by Peter J. Tomasi and Patrick Gleason. The main story of the issue is Bruce's attempt to be a supportive dad to Damian and Alfred noticing that he absolutely sucks at it. While Damian is able to hold back his bloodlust in Bruce's company, he emotionlessly takes it out on a bat. I think this is awesome. This is how it should be. It isn't regressing for the sake of regressing. Why did Damian chill out in the first time? Because of who was mentoring him. Dick Grayson was such a loving, supportive and emotionally genuine partner that Damian was able to let him into his heart and change him. Bruce doesn't stack up and Damian is starting to have a hard time figuring out why Bruce is worth following more than his mother.
It's great because after having to put up with years of Dick trying to live up to Bruce's example, Bruce is now in a spot where he has to live up to Dick's example. Batman needs a Robin, but Damian is just another Batman. Batman doesn't need another Batman. Neither has the crutch of a cheery partner to keep them stable, so dysfunction is in their future.
Gleason's art is fantastic when it comes to action. Really enjoying his stuff, especially this page from after a criminal announces, "What the hell?"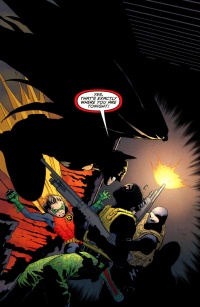 I'm going to stick on this one.
Also in Gotham is Batwoman by J.H. Williams III and W. Haden Blackman. Despite what I said about Gleason, it's Williams who is the true king of art these days. Good God! The opening scene especially, where not only is he doing the cool x-ray box to show bones being shattered upon punching impact, but Batwoman is colored differently from Flamebird. Flamebird is flatter and more simplified, while Batwoman has a more realistic sheen that makes her step out of the page like a 3D image.
The story is more coherent than last month's intro, though the threat appears to be just as much a mystery as it ever was. The Cameron Chase part does include something I really wish we'd see more often in comics. I like when people try to figure out a superhero's secret identity and get it wrong in a way that makes sense. Like how Jameson used to think that his son was Spider-Man or how Gordon once believed Harvey Dent to be Batman. It always makes it easier to accept that the public hasn't figured out what appears so simple to readers such as us. While the story isn't setting my world on fire, the art is and the narrative is worthy enough. I'm going to stick.