April 18th, 2010 Posted by Gavok
Sorry for the long break there. For the past few months I was more busy writing about Eddie Guerrero and Brock Lesnar than Eddie Brock, so I had to let the whole We Care a Lot thing fall to the waysides. Now, then. Where were we? Ah, yes. I was talking about alternate reality versions of Venom for the sake of completion. Now it's time to look into the future.
I was originally going to call this installment "Brock to the Future", but I noticed that no matter what alternate future you look at, Eddie's days are almost always numbered. Even in the futures where he could still be theoretically alive, he's not only dead, but they don't feel the need to explain how he bit the dust. Same goes for Mac Gargan, except for when he appears as Scorpion in Spider-Man: Reign.
I'll go farther out into the future and inch my way back towards the present. That means starting with All-New Savage She-Hulk, a miniseries by rocking writer Fred Van Lente. The new She-Hulk is Lyra, who has come to Earth from an alternate future, hundreds or thousands of years from now. Her mother is Thundra, a warrior leader in the never-ending war between barbarian men and amazon women. Thundra went back to the present, scraped some DNA off the Hulk's face during a fight, went back to her time and created Lyra. Lyra is the bane of her people for having a father, despite her great strength. That strength, by the way, comes from a zen mentality. If she gets angry, she becomes increasingly weaker.
So what does she have to do with Venom? In her time, the men are mostly split into tribes that worship the long-dead superheroes. Since her reality seems to be based on Osborn never being dethroned, the tribes are mostly copycats of different Dark Avengers. They have the clawed Howlers, the Goblinkin, the Men of Gold, the War Gods and, of course, the Crawlers.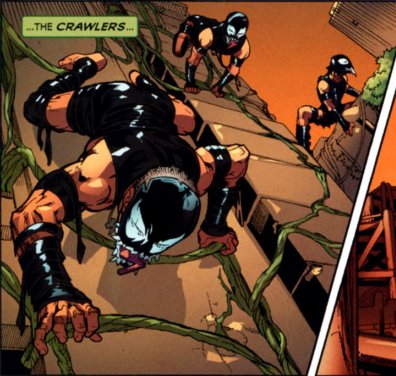 Not only that, but the Venom symbiote still exists in her time. Man, what kind of life expectancy do these creatures have, anyway? The women warriors have their home protected by a moat with the creature now known as "The Black Bloom" residing. The women are treated with a pheromone that renders them invisible to the symbiote, meaning that when the tribes of Crawlers, Goblinkin and so on chase Lyra, they end up getting devoured by the hungry pool of black.
Later on the story, when Lyra is in the present, she fights the Dark Avengers. She's amused that Venom wears the Black Bloom and easily disposes of him. After all, her pheromones make her into Venom's kryptonite.