September 9th, 2010 Posted by david brothers
I picked up Final Crisis: Rogues' Revenge
yesterweek. It's Geoff Johns and Scott Kolins following up on the run that got me into the Flash.
Here's something I liked from it: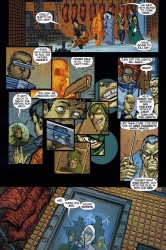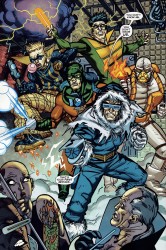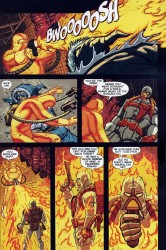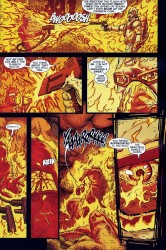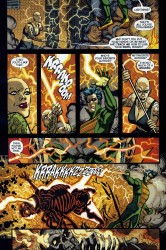 Bastard cape comics are weird. On the one hand, you can watch Captain Cold in cartoons on TV. On the other, he murders people as needed. There's such a weird disconnect there, but I think I'm done trying to reconcile it. Who cares anymore, right? Love it or leave it alone.
---
Amazon stuff: Not much this week. I messed around and ordered Gotham Central one
and two
on a whim. Went back an hour later to cancel them since I already have the trades and whoops too late, son. I ordered them because I don't have all of the trades, so I figured the HCs would be a good pickup. Then I realized that I could just buy the trades I'm missing, which is a functional, if less handsome, solution, but c'est la guerre. The end result is that my mom's getting more books by Greg Rucka free of charge. She likes Queen & Country, and she likes mystery/cop novels, so maybe these will float her boat. (I should start charging her for all the books I give up, this is just absurd.) But yeah: uncharacteristically light Amazon week for me.
Me: A bit of talky-talk on DC Comics, a preview of the new Charlie Huston/Shawn Martinbrough Punisher joint, and an exclusive (clue clue clue) ten-page preview of the next volume of Adam Warren's Empowered. I've read it already, and I need it to come out and all of you to buy it, please. I want to talk about it with somebody. It's great. The comments section on that post is great, too, Empowered fans rule. If your shop doesn't carry it or you forgot to order it, check Amazon
.
Not me: Kalinara reacts to something I wrote with some points I can't really deny, Cheryl Lynn talks out her buying habits (I like seeing people talk about why they buy what they buy/don't buy, have you noticed?), and Tucker Stone delivers the reviewing equivalent of a blunt laced with bubble kush and PCP. Go on. Get wet.
---
@hermanos: Amazing Spider-Man 641, Amazing Spider-Man 642, Punisher Max: Hot Rods of Death 1, Weird War Tales
@estherschmester: Definitely: Batgirl 14 Maybe: Batman #703, Batman and Robin 14, Doc Savage 6, Red Robin 16
@Gavin4l: Batman And Robin 14, Booster Gold 36, Green Lantern 57, Justice League Generation Lost 9, Welcome To Tranquility One Foot In The Grave 3, Daken Dark Wolverine 1, Deadpool Corps 6, New Avengers 4, Ultimate Comics Avengers 3 2, Irredeemable 17
Anybody reading Shadowland? You want to do me a favor and quit that? You're only hurting yourself.