October 2nd, 2006 Posted by Gavok
We're almost done with the Malibu MK series. When we last left our heroes, Sonya was kidnapped by Kintaro, who claimed Shao Kahn had plans for her. Liu Kang and his new friend Bo defended against ninjas that repeatedly came out of the fucking blue. Johnny Cage and Jax were challenged by Smoke and Jade on an airplane. And Bullwinkle signed a contract to be a lounge singer, not realizing that his agent is really the nefarious Boris Badenoff!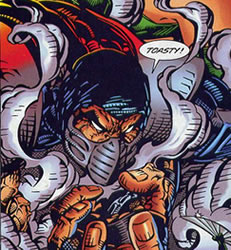 Oh yeah. That too.
Smoke and Jade try to attack Jax and Johnny with their own strategies. Smoke uses the strategy of turning into pure smoke while Jade uses the strategy of having her tights hiked way up her buttcrack. The heroes counter this by making a couple Gone with the Wind references before knocking them through a hole in the plane. That… might make more sense if you read the comic.