July 20th, 2009 Posted by Gavok
Last time on We Care a Lot, I discussed Eddie Brock's cancer retcon. Before that, I was talking about Daniel Way's Venom on-going series. To refresh your memory, the Venom symbiote is on the loose up in Canada. It killed off all of army girl Patricia Robertson's friends and is on its way to a more populated area. Robertson is allied with an alien life form named the Suit, who fights with a cell phone gun. They are being antagonized by a pair of spy chicks who want Venom for themselves. Although they have already been killed, another couple of them have popped up. Venom has finally settled on a host that he can live off of forever.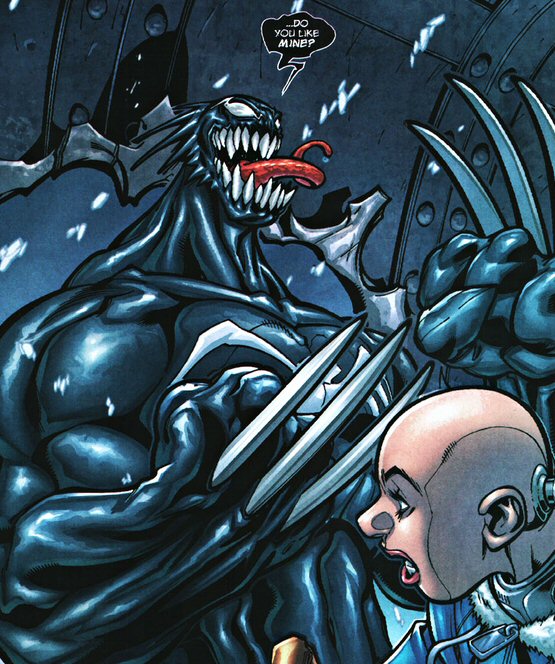 And that's where we left off. Venom #10 begins with the Venom-controlled Wolverine attacking Vic and Frankie's ship and forcing it to crash. The two suit up in their armor and reveal to the reader that they're probably into each other sexually. Of course they are.
They don't last a minute. Frankie is stabbed to death by Venom-Wolverine and Vic stumbles upon her doppelganger's corpse from earlier. She realizes that she's nothing more than a clone, puts her gun to her head and pulls the trigger.
The torso remains of the Suit give Patricia a new cell phone he has created. He says that he placed the original in a special place and that the new phone acts as a detonator. Venom-Wolverine busts in after her and she presses the button to activate the first phone. As we see, after Wolverine was knocked out by that nuke, the Suit tore open his chest and shoved his phone in there. Now the cell phone goes off, electrocuting Wolverine from the inside and forcing off the symbiote.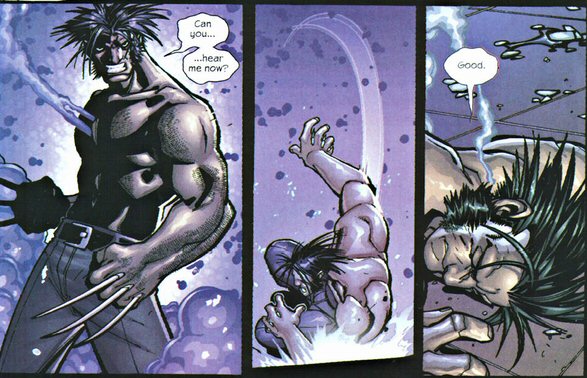 BOOOO!