January 8th, 2010 Posted by Gavok

July 28th, 2009 Posted by Gavok
Back in the early 90's, the comic company Valiant struck a deal with Nintendo. Over the next two years or so, Valiant would release a multitude of series based on Nintendo franchises. There were a couple that felt natural. Super Mario Brothers and Legend of Zelda each had their own cartoons at the time, so they would get picked up. Captain N: The Game Master would also get his own comic, though transformed due to the inability to use videogame characters outside of Nintendo. There was even a series called Nintendo Comics System that acted like an anthology of stories featuring those I mentioned and miscellaneous games like Dr. Mario and Punch Out.
Around that time, Nintendo's Game Boy was still fresh on the scene and they wanted to do whatever they could to get the word out. Sure, advertising was easy for the Nintendo Entertainment System. Captain N was one big commercial for the console and all its games. Well, all the games that weren't on that crappy knockoff cartoon Power Team (anyone else remember that? It had the monster truck Bigfoot, a basketball player and a talking tomato). Anyway, outside of commercials and magazine ads, how do you advertise what is essentially a lesser NES that you can carry around with you?
With the Captain N cartoon, they eventually introduced a Slimer-like character named Game Boy who was one, big, annoying Game Boy levitating around. With Valiant, they went in another direction. They gave it its own comic book.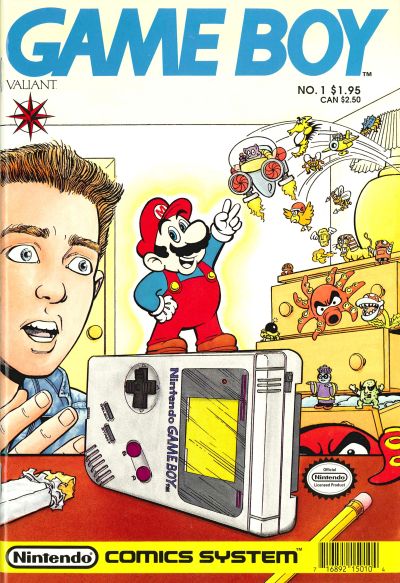 I'm sure by now you're already asking the million dollar question: "How exactly does a Game Boy comic work?" That's a very good question and having found out the answer, I just had to get my hands on this 4-issue series.