February 10th, 2010 Posted by Gavok
CBR posted a little announcement and interview today dealing with the next chapter in Thunderbolts. With Osborn on the outs, what's going to happen to the team? Who's going to be the leader and who will he be commanding?
Get a load of this: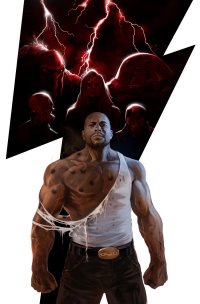 I'm starting to believe that Jeff Parker is God's gift to me. I'm especially pumped. As an aside, looking at that cover, whoever unloaded on Cage should be thankful that he didn't hit a nipple. That'll set him off.
In addition to Luke Cage, the initial line up of Thunderbolts has been revealed to include Juggernaut, Crossbones, Ghost, Moonstone, and Man-Thing. Is there anything you can say about these characters motivations for being on the Thunderbolts?

I think everyone's prime motivation is: I do not want to rot in this cell. I would rather have Luke Cage screaming at me as I run into the probability of certain death than rot in this cell. Except for the Man-Thing, of course – no one can ever tell what he's thinking. And no one asked him anyway.

How would you describe the initial dynamic between these characters? Is there anybody Luke can trust on this team?

That's what Luke would like to know! Moonstone is in and out of the program. She shows promise and then, bam – she lets you down. Ghost also seems promising, but then there's quirks, like him trying to kill Iron Man. Juggernaut, some people think he's a hero too.
This shows a ton of promise. Let's look at the line-up, one by one.