June 11th, 2011 Posted by Gavok
I admit that I've been putting this one off for quite some time. It's only natural, since it means having to read Maximum Carnage for the first time in about fifteen years. For a while, I didn't even intend to review this story since it's been covered to death across the internet, but then I realized that my take may have its own flavor. After all, I'm a guy who likes Spider-Man, loves Venom and tolerates Carnage. That last one already puts me on a different path from most reviewers.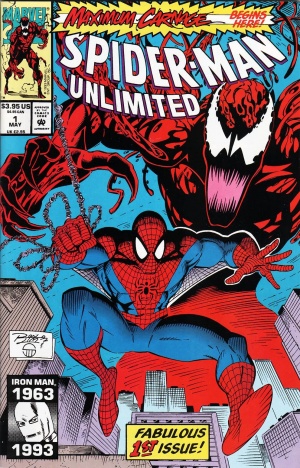 Carnage falls into the category of, "It's not the character that's bad but the writing." Carnage can be in a great story, I'm sure. We just haven't seen it yet, though the Carnage miniseries (originally going to be called Astonishing Spider-Man and Iron Man until Marvel realized they could lure more readers in by naming it after the long-dead villain) has certainly had its moments. In preparation, I read through Carnage's original story arc in the pages of Amazing Spider-Man #361-363, which isn't at all an offensive story. The Micheline/Bagley joint mostly acts as a way to both remove Venom from his status quo where he peacefully lived on an abandoned island while believing Spider-Man to be dead as well as giving Venom an excuse to fight alongside Spider-Man against a threat greater than both of them.
This idea, which I'm sure sold like gangbusters, was made fun of in the pages of the Ren and Stimpy Show #6 when Spider-Man made a guest appearance to fight a mind-controlled Powdered Toast Man.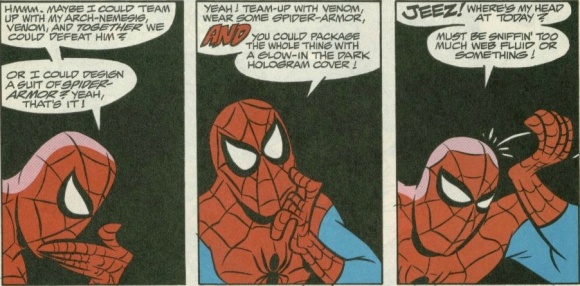 This was written by Dan Slott, who would go on to create Anti-Venom and a bunch of gimmicky Spider-Man costumes. Pot and kettle.
So anyway, Carnage was a decent enough villain for his initial story. If they kept their cool about it, he'd probably be more accepted by your average comic fan. Instead, they went nuts over how this was the best idea Marvel's come up with in years. The covers would literally say that Carnage was so awesome that they had to put his name on the cover twice! It was this thinking that made Marvel brass believe that a lengthy Spider-Man arc spanning all his books should be centered around this supervillain.
After reading Maximum Carnage, I felt that it had a lot of similarities to the Clone Saga. Part of it is the innocent idea of taking a character who's been taken off the board in a previous story and bringing them back for the sake of telling a bigger, better story. Due to the hype behind the character, many issues are dedicated to telling this story. Too many issues.