August 31st, 2006 Posted by Gavok
What if I just got straight to the article itself for once?
70) WHAT IF DEATH'S HEAD I HAD LIVED?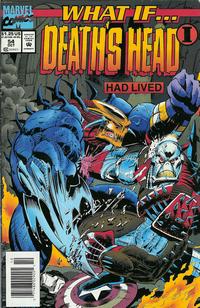 Issue: Volume 2, #54
Writer: Simon Furman
Artist: Geoff Senior
Spider-Man death: No
Background: Oh, boy. Where to begin?
There's a good chance you're scratching your head, wondering who the hell Death's Head I is and why he would deserve his own What If issue. First off, stop scratching your head. It's a disgusting habit. Death's Head I was a character from the 80's created by Simon Furman and integrated into the Marvel UK Transformer comics. Death's Head I was a charismatic and likeable bounty hunter, striking some of the same chords that Deadpool would years later. A robot from the future, Death's Head I spoke through a voice box on his face, usually turning his statements into questions, like a French guy trying to speak English. Like for instance, he'd likely tell you, "Refer to me a freelance peacekeeping agent, yes?" He was weird like that. It was neat.
Death's Head I mainly hung out in the year 2020, but had a tendency to time travel, usually leading to crossovers with guys like the Fantastic Four and She-Hulk. During the 90's, Marvel decided to reboot his image. AIM had created Minion, a powerful robot with the ability to absorb the instincts, skills and knowledge of whoever he destroyed. He's like an evil Megaman, except he looks like a blatant Predator rip-off. Minion was mainly created to destroy a mysterious threat named Charnal. I'm not savvy on the details here, but Minion ended up going up against Death's Head I and Mr. Fantastic in our present. He killed Death's Head I and absorbed his mental workings. It was too much for Minion to handle and parts of Death's Head I's personality caused Minion to override into something new. Now calling himself Death's Head II, he and Marvel's heroes fought the merging of villain Baron Strucker's soul and the remains of Death's Head I's body. In other words, Charnal. Death's Head II was victorious and went on to have some extreme 90's adventures. Yay?