July 28th, 2008 Posted by Gavok
A couple weeks back, Johns and Katz finished off their spectacular run of Booster Gold, bringing us some closure, while opening several new plot threads. A lot happened in there that I enjoyed, including the scene with Booster and Batman. Yes, sure, you can complain about how Batman remained completely silent about finding photos of a beaten and tortured Booster when he found Joker's camera circa Killing Joke, but I dug it. Not only because Batman, the big superhero cynic, was giving Booster the well-deserved props, but because it went both ways.
Fact is, Booster hated Batman more than any other superhero. That's a damn lot. What's that you say? Hal Jordan? No, Hal Jordan didn't really hate Batman. He was more submissive to what Batman had to say against him and was at most irritated. Superman? More disappointed than anything else. Red Hood? Just confused in a frustrated way. Booster Gold, on the other hand, outright tried to MURDER Batman!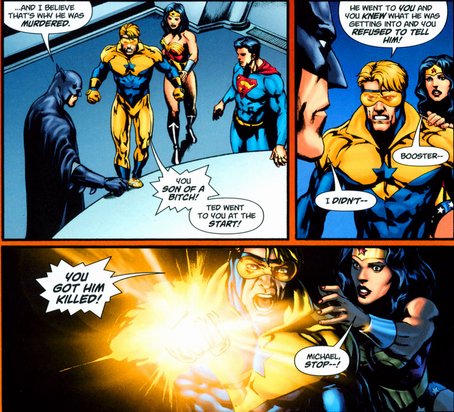 I still remember when Countdown to Infinite Crisis happened and people were frothing at the mouth to see how Booster would react towards Batman. Ah, that was a fun scene.
So anyway, the new issue of Booster Gold finally had Booster and Batman bury the hatchet. That's cool.
But another big moment involved Rip Hunter's reveal that he brought back Booster's sister Goldstar. Now, I understand that only a handful of comic readers have read anything with Booster in it outside his Justice League/Blue Beetle team-up stuff, so I'm sure there's quite a few of you wondering who this is. It's a logical thing to wonder, since other than an earlier flashback, she hasn't been seen for about twenty years.