June 25th, 2006 Posted by Gavok
Several months ago, I brought myself to read through James Robinson's brilliant Starman series. With its great supporting cast, the character Mikaal Tomas stuck out to me. One of the many superheroes to once call himself Starman, Mikaal turned against his conquering alien race and sided with Earth. Eventually, this led to the extermination of his kind and the truth that Mikaal was the last of his people. This made me realize how overused this idea was. So many aliens in the DC Universe were the last of their kind. Other than Mikaal, we have Superman, Martian Manhunter, Lobo and even Kilowag.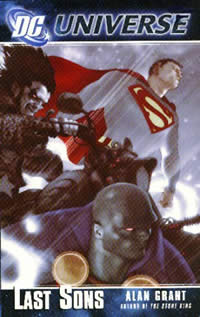 I got the feeling that these guys need their own story based on this. When I came across DC Universe: Last Sons at the local Barnes and Noble and saw that this was essentially what I was asking for, I realized I had to read it. Even without Mikaal and Kilowag there, I was still interested. Besides, it was about time I read a book that didn't have pictures in it.
By the way, this is filled with spoilers. If you want a review that doesn't tell you that Xemtex's robot friend dies, go here. If you take that guy's word for it, continue.