September 15th, 2006 Posted by Gavok
Here it is, the halfway point. If my taste is to be trusted, this should be getting better, so read on.
50) WHAT IF… STARRING QUICKSILVER: THE QUICK AND THE DEAD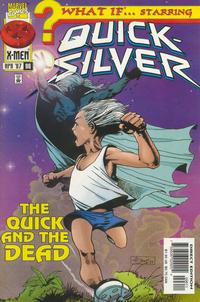 Issue: Volume 2, #96
Writer: Chris Wozniak
Artist: Chris Wozniak
Spider-Man death: No
Background: We all know that Magneto is the father of Quicksilver and Scarlet Witch, but even before that he had another daughter named Anya. Since the village Magnus and his family stayed in resented them and believed witchery was afoot, they set fire to their house and ended up killing Anya. Magneto tore his neighbors apart and left. His pregnant wife couldn't take being with him and ran off. This issue talks about what would have happened if Magneto could've saved his daughter. The clincher? Anya was human!
Magneto's stance against humanity stays more or less the same, but he has this need to shelter his family from bloodshed, even if he's the one doing the slaughtering. Magneto's wife soon gives birth to twins and Magneto is happier. Not only are they mutants, but he has a son to pass on his legacy. The years pass and we see that Anya gets the short end of the stick. She's normal. She isn't special.