October 15th, 2006 Posted by david brothers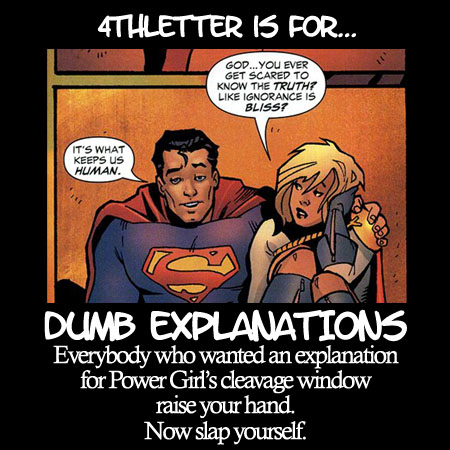 (I couldn't fit "that nobody asked for" after "dumb explanations")
Okay guys, serious question time.
Which one of you out there demanded to know what the deal was with Power Girl's cleavage window? Stop for a minute and think.
Did we really need an explanation for PG's window? I quite like Amanda Conner, so the PG arc of JSA Classified was very good, but I could've done without knowing why she has a gaping hole in her costume. Before, I'd chalked it up to being yet another side-effect of cheesecake comics. Tying it into the Superman mythos is interesting… but also kind of creepy. I liked it better when it was just "Hey, free cheesecake." Now it's like… highbrow cheesecake or something. Expensive cheesecake.
I kid, really.
But seriously fanboys and fangirls, we don't need everything explained to us. If there's a minor continuity glitch, write it off as Hypertime. Hypertime was fun, easy, and let all your imaginary stories be real ones. If your hero isn't acting properly in a team comic, hey, it's just a bad day! Give it two months and you probably won't even remember that Clark Kent parted his hair on the left instead of the right or that Power Girl's boob window is actually due to deep, introspective thought and psychoanalysis rather than, say, a tragic fabric shortage at the warehouse.
It's just comics. We all love 'em, but sometimes, ignorance actually is bliss.