October 19th, 2012 Posted by Gavok
I hope New York Comic Con, 4thletter and I live forever so I can keep making the title longer year after year.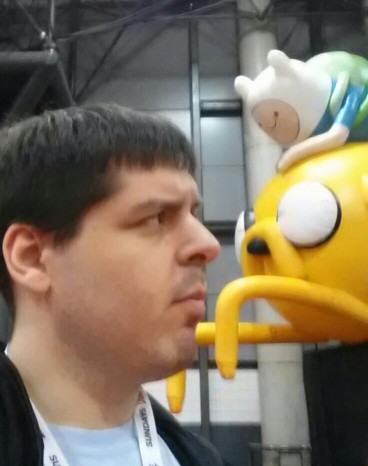 I'm going to be honest with you. When you come back from an exhausting trip like this and you have a day or so to recuperate, the realization that you have to relive it all over again by writing it up is like a punch in the gut. But it's my duty to write of my weekend where everyone was wearing a Bane mask, Finn hat and doing the Gangnam Style dance. It's time to discuss New York Comic Con 2012.
This was a lonely year for me. David has long disowned the con, other David wasn't going either and I wasn't going to be joined by any of my coworkers. With all the UCB classes I've been taking, I decided to be a little more on the frugal side and went against getting a hotel. After all, the classes have made me so accustomed to commuting into the city that I figured I could just do that for four days in a row. Coincidentally, I had a show in the city the Sunday prior and watched a show with a friend the following Tuesday, so I ended up commuting six times in eight days. I spent about half a day in a bus over that time.
At least I had a press pass, which was nice. The only problem being that NYCC has decided to put their foot down and make it a little harder to get one of those. It used to be that you'd just fill out some stuff online. Now you have to fill out some stuff online, get an email for a link to a PDF document, print it out, fill it out, print out three articles, staple your business card, get an assignment letter from your editor (which I guess means David) and fax it all. Yes, faxing is apparently still a thing in 2012. I had no clue.
DAY ONE: THURSDAY
Thursday is the prelude, really. The place is only open for four hours and not as many people are there. I got to wander the floor a bit and enjoy a brief day of no insane foot traffic. At one point I ran into Neil Gibson at the Twisted Dark booth. I reviewed his comic less than a year ago and it was a really shittily-written review and I felt bad about it, so I bought a copy of the comic's third volume. I mean, I guess I would have regardless, but at least now I feel like I redeemed myself in some way. Nice guy, although he was really annoyed that the printers fucked up their con copies of the book and added an extra page. Now all the reveal pages are on the right side instead of the left, ruining some of the suspense.
I perused through some of the comic-selling booths. It's something I tend to do every con, but I keep forgetting to save it for Sunday, when the prices are cheaper. Every year I look for that one weird piece of comic history that hits me by surprise and I got that taken care of pretty early on with a comic starring Bob's Big Boy.