August 1st, 2006 Posted by Gavok
I finally finished it. 176 issues of What If and I've finished reading them. My list of the 100 best is put together and the series of articles will commence.
But first… let's just take another look at some of the issues that won't be on the list. Some of the really bad ones.
Before I start, I've been asked about the clichés included with the series. In the last article, I mentioned the bit about Reed Richards being a borderline psychopath, but what else is there?
1) Spider-Man dies. A lot. Of course, this is to be expected. After all, he shows up in many, many issues. It's the law of averages in effect here.
2) Kingpin dies. A super lot. What I said about Spider-Man doesn't apply for Wilson Fisk. If he's in the comic, there's a 95% chance that he's going to die. Then again, it's a wonder why he's still alive in regular continuity.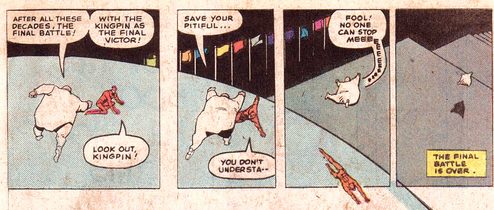 3) Loki is a puss. I can't recall a single issue where Loki comes out a winner. Then again, there is a chance that he survived Marvel Zombies, so he has that going for him.
4) Hulk depressed! If the Incredible Hulk is the main character of a What If issue, the chances are very good that this isn't going to end well. There are a couple exceptions.
Now to the crap. Read the rest of this entry �