April 15th, 2012 Posted by Gavok
The whole 4 Elements article concept is David's baby. The four ties into the four in 4thletter and 4thletter comes from David's name because he's an egomaniac, an Eggo maniac and possibly a Lego maniac. You can also say that the four comes from there literally being four elements, but I'm pretty sure there are like a hundred of those things, so that's definitely wrong.
This is David's site and all, but Carnage USA is my comic. It's a comic specifically made for ME. Me. Gavin Jasper. And since I'm Gavin, which starts with the seventh letter of the alphabet, that means I need to talk about the 7 Elements.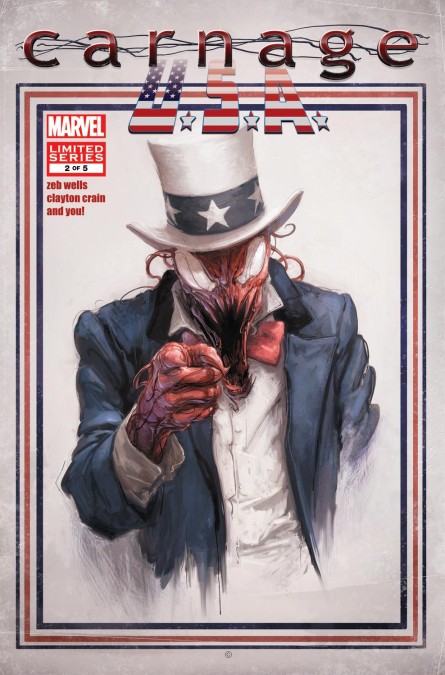 Carnage USA is the sequel to last year's Carnage, both by Zeb Wells and Clayton Crain. Carnage was the story that returned Carnage from his grizzly death of being torn in half in space by the Sentry back in 2005. It acts as a loose sequel to the character's most mainstream adventure Maximum Carnage while introducing yet another symbiote anti-hero in Scorn. By the end of the story, not only is Cletus Kasady alive and reunited with his blood-red costume, but he's also on the loose and nobody knows where he'll end up next. All we know is that he has something bad on the horizon.
The plot of Carnage USA has Cletus venture to Doverton, Colorado, where he goes to a slaughterhouse and kills the entire stock of cows. The symbiote grows off the meat and expands to the point that he's able to infect and assimilate the entire town through plumbing. A handful of the Avengers (Spider-Man, Captain America, Wolverine, Hawkeye and Thing) are sent to go deal with it and find a town of frightened human puppets before Carnage takes them too. Spider-Man gets away and the government goes to plan B… while trying real hard not to move to the dire plan C, which is to blow the county to kingdom come.
This miniseries helps support the idea that in comics, there are no bad characters, but bad writers. For such a mainstream villain who got his own popular videogame back in the day, Carnage's death was met with little backlash. For years he's been seen as nothing more than 50% shallow Venom mixed with 50% shallow Joker. Nobody's ever really tried to write something decent with him and whenever he got the spotlight with his own one-shot, it was usually a bunch of gory dreck that didn't do anything for me.