August 20th, 2009 Posted by david brothers
They turned me into a Power Girl fan.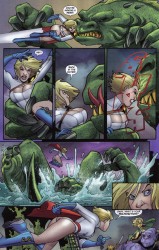 From Power Girl #4, words by Justin Gray & Jimmy Palmiotti, pictures by Amanda Conner, colors by Paul Mounts. Headbutt: heard round the world.
I'll have something smarter on this later, but I'm wonderfully feverish and sick lately. I just wanted to put this out there, because it's an amazing book. I'm working on a Thing in the background, something I think would tie into a look at Power Girl very nicely, but for now, I'll just have to tease.
And sneeze.