July 29th, 2010 Posted by david brothers
Icon: Mothership Connection
. Words by Dwayne McDuffie, art largely by MD Bright, inks largely by Mike Gustovich, assorted art by an army of creators, colors by a horde of colorists, letters by Steve Dutro.
I read various issues of Icon as a kid, though I don't think I ever read more than one or two in a row. I think as far as Milestone went, I kept up with Static and bought the rest as I could, probably because Static was about a kid. When I got grown, I read, or re-read, Icon and found a lot to appreciate. Here are four things in particular.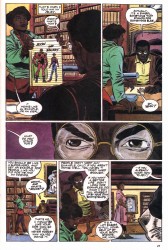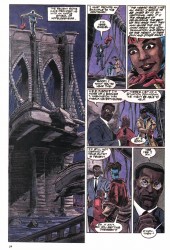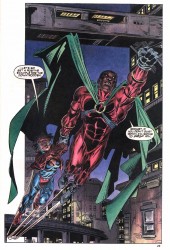 Icon has a point. Stories that have no meaningful content may be entertaining, but they don't stick with you like stories that have a point do. It doesn't have to be a sermon, it doesn't have to reveal some profound lesson, and it doesn't have to use heavy-handed metaphors to examine life. There just needs to be some level of meaningful content, something you can look at and go "Oh, this. This means _______." This is true of everything, not just comics.
Batman is about coping with grief. Daredevil is about survivor's guilt. Spider-Man is about being better than you are. Donna Troy's stories are about how people will read anything, no matter how bad, just because they liked a character as a kid. X-Men has gotten awful muddy, but somewhere under all of the fetish writing and laborious continuity is the metaphor that made them a hit. You can kick over most of the popular heroes and find something underneath their adventure stories that speaks to someone, somewhere.
Icon is about responsibility. Augustus Freeman is living well amongst other rich people, which has unfortunately segregated him from his history. Freeman, comfortable in his own abilities, leans toward believing that each person can pull himself up by his bootstraps. Essentially, he is responsible only for himself, and everyone else should follow that example. After all, if he did it, anyone can, right?
The problem with that is that it simply doesn't work. Ignorance holds a lot of people back, and if you don't know better, you can't do better. Icon the series and Icon the hero are there to show people that they can do better. When Raquel gives icon a name, she tells Augustus that "[i]t means like an example, or an ideal." Augustus corrects her, and explains that "it's a symbol, something that stands for something else." She asks him, "What do you stand for?"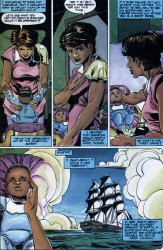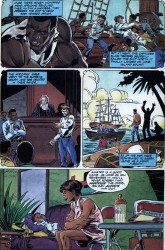 You hear it all the time. "The children are the future." ("and Wu-Tang is for the babies.") (Sorry.) It's both literal and figurative. The children are who inherit the future, but they are also the guides of the future. Their choices decide what's going to happen.
Writers are the keepers of the past. They take what happens now and make sure that it lasts into the future. It's very important to maintain a connection to your past while proceeding into the future. That is how knowledge survives from generation to generation.
Raquel represents the past, present, and future. She's a writer, charged with protecting and judging the past, and she's a mother, shepherding and guarding the future. Her knowledge of the past informs her present and provides a foundation for the future of her child. She names him Amistad, after the slave ship.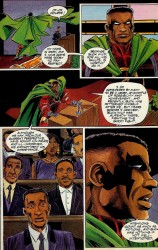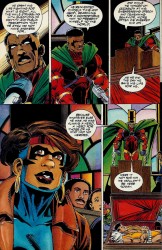 Buck Wild represents progress. Buck is essentially every black comics character, pre-1990, rolled into one. He's primarily Luke Cage, from his design to his demeanor. McDuffie and Doc Bright amped up his more stereotypical accents, such as slow wit and fake way of speaking, but you know exactly who he is supposed to be.
At his funeral, we get to see Buck's parodies of several black heroes. All of those heroes were lacking in various ways. Some were sidekicks. Others were dependent upon white heroes for powers. Some just had stupid villains. Buck represents all of these heroes, and by being presented as a backwards, but useful, hero, McDuffie and Bright are saying something very specific about black heroes in comics of a certain time and style.
Icon, at Buck's funeral, says, "[F]or all his failures, he died as he lived, trying to do what was right. Let us hope that when our day is done, history remembers us as kindly as it remembers him." His point is plain: Buck was not perfect, but he was an attempt to do right. Extrapolate from that: all of those stupid black heroes who spoke in fake jive and had powers that boiled down to "has muscles, hates the man" were a necessary step. You don't get to have great heroes without having the wack ones first. Buck Wild paved the way for Icon, and hopefully, one day, Icon will pave the way for something better.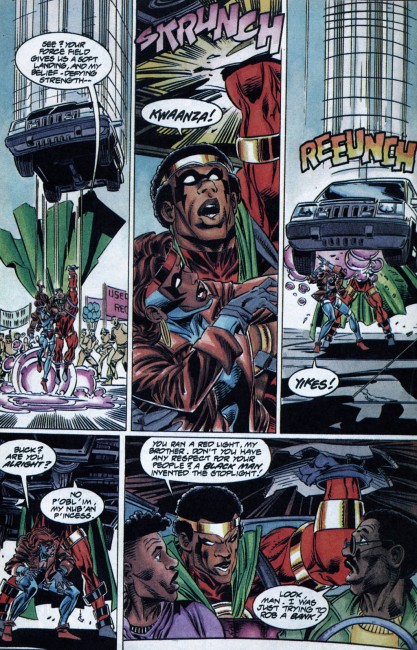 All of the meaningful content in the world don't mean a thing if it ain't got that swing. You can preach until your voice goes hoarse and your congregation falls asleep in the pews, but it doesn't matter if what you're preaching isn't entertaining. If you want to preach and preach and preach, go write some non-fiction. If you're doing a comic, bring your biggest guns and entertain. Fortunately, Icon is entertaining.
There's a wry sense of humor woven throughout the book. The citizens of Dakota are quick with a flip remark, Raquel is smart-mouthed enough for both her and Icon, and Buck Wild is hilarious, in an Uncle Ruckus sort of way. McDuffie wrote a particularly effective black preacher in Icon: Mothership Connection. Every black preacher has a little bit of James Brown inside him, and McDuffie nailed it, even down to the call and response from the congregation.
When it comes time for action, McDuffie and Bright go big, with Superman-class action. Icon's populated with aliens, thugs, politicians, protestors, plenty of other heroes, and inky black alien shapeshifters bound and determined to destroy everything Icon holds dear. Buildings get knocked down, cars get thrown, and people get punched in the jaw.
Make no mistake: this is a superhero comic. Icon flies, shoots beams, and beats people up. It's a very entertaining one, too, and more than capable of keeping your interest. The meaningful content is simply icing on the cake.