June 17th, 2009 Posted by david brothers
I dug the first issue of New Mutants, but #2 hit one of my few nitpicky pet peeves. This bit right here: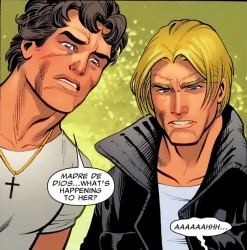 Naw, son. In addition to being browner back in the day (what's up with the coloring in this book? everything is set to "superbright"), Bobby is Brazilian. They don't speak Spanish down there. It's Portuguese. In fact, here's a bit from a letters page I found in an X-Force comic I was reading about a month back. It's from somewhere between issue 80 and 82, I think. The page it was on had reactions for X-Force #76, so you do the math.


Listen to Giancarlo Lima, fellas! I'd have emailed this directly to whoever's editing the book, but New Mutants doesn't have a lettercol email setup, near as I can tell. And leaving Zeb Wells a Youtube comment just seems… weird.