October 26th, 2009 Posted by Gavok
Covering Frankenstein is probably the best way for me to end the Dell Monster Trilogy, just because it is easily the best of the three comics. I realize that doesn't mean much, and believe me, it doesn't. It's still pretty bad. It's just that it's the only one that feels like it could be a comic book worth reading.
Dracula was very loosely based on the source material and wasn't quite as fun a concept as it could have been. Werewolf had literally nothing to do with its source material and despite the utter insanity of the story, was really boring for the most part. Frankenstein is the closest to the source and comes across as genuinely amusing for an old 60's comic at points. It isn't much, but it's still the cream of the crop.
Like the other two, the creative team is believed to be Dan Segall and Tony Tallarico. Much like Dracula, Dell refers to the comic book adaptation of the Frankenstein movie that they released years earlier to be Frankenstein #1. The start of the superhero stuff is considered the second issue.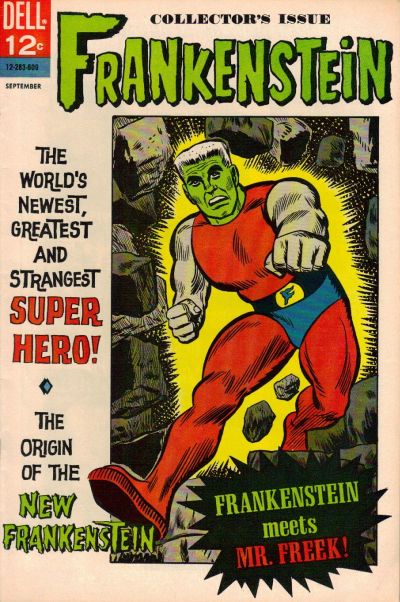 I can't be the only one who sees Dell Frankenstein and thinks of Captain Murphy from Sealab 2021, can I? I kept hearing his voice for every one of Frankenstein's word bubbles.
It begins promising enough with the shot of an abandoned castle that hasn't been touched in about a century. We soon after find out that this is in America and that it's only miles away from a major city (Metropole City), but at least the atmosphere is there. A huge bolt of lightning crashes through the roof and hits a slab below. On the slab is a body lying and dressed in red spandex with boots. For no reasons explained, his head is green-skinned and the rest of his body appears Caucasian. The bolt awakens him and he sits up, confused.