April 29th, 2009 Posted by Gavok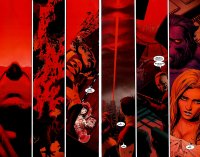 Eh. I couldn't resist.
40) Siryn Stays
Deadpool #5 (1997)
Writer: Joe Kelly
Deadpool's healing factor has been on the fritz, and he's offered help from a strange source in Dr. Killbrew. Killbrew is the sadistic scientist who tortured Wade and gave him his powers in the first place, but now he's a guilt-ridden old man who wants to make things right. Deadpool really wants to tear him apart, but two things are stopping him. One, the cure for his ailing healing factor and two, Siryn is in his company for the adventure.
After a run-in with the Hulk, Deadpool has a blood sample that's able to pump him back up to working condition. Behind Siryn's back, he tries to murder Killbrew. Killbrew is only slightly reluctant, but accepts that he deserves this. Before Deadpool can end it for him, Siryn breaks the door down with her voice. She's furious at Deadpool and stands in front of Killbrew to protect him.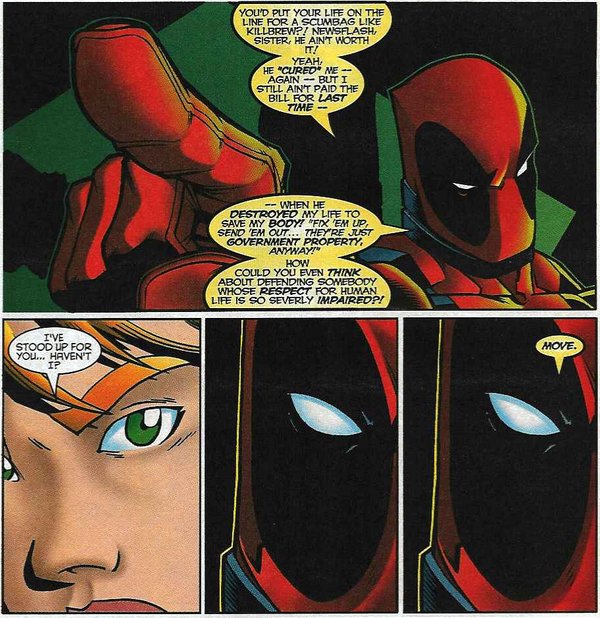 The two argue back and forth, with Deadpool continuingly demanding Siryn leaves the room so he can do this. She flat out refuses, making him freak out. He doesn't want to show this part of himself in front of her, but he's being given no choice. Siryn demands to see proof that Deadpool's inner animal wins out over the good man she knows he can be and lets it slip that she's known for a while that Deadpool's been creepily watching over her when she sleeps and feels safe because of it. She promises she'll be there for him, allowing Deadpool to feel mercy for once in his life. He tells Killbrew to get the hell out of there ASAP and to thank Siryn for being able to keep his pulse.