December 26th, 2013 Posted by Gavok
Christmas is over. I hope yours was nice. Mine was pretty great. Here's me wearing the stuff my best friend got me.
In return, I got him this pillowcase.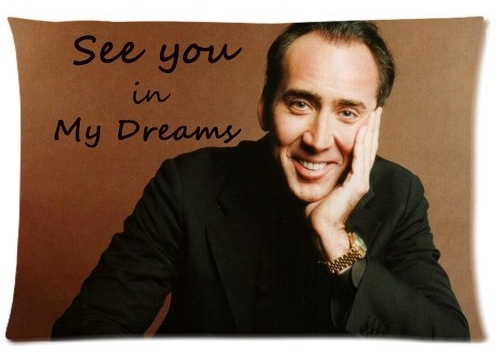 There are a lot of different things that made this holiday season great, most of all being that it's my first Christmas with my two nephews, Jack and Syd. Being an uncle rules.
A lesser, but still important, factor into what made this season so fantastic was that it's the first time in nearly 10 years that I haven't been working holiday retail. I had worked for Barnes and Noble for seven and a half years and with that was there for eight holiday seasons. When I discuss my time there, I tend to tell people, "I worked there for seven and a half years and enjoyed seven of them." For a long while, I felt very loyal to the company and did my best. That got chipped away as the years went on, mainly towards the end.
There were a lot of things that set me astray, I suppose. I remember finishing off the 2012 holiday season with a feeling of, "Never again," without putting much thought into it. Shortly after, a managerial miscommunication over a necessary day off I asked for a month in advance soured me pretty badly. Everything was beginning to wear on me and I started feeling like Randy the Ram during his last day at work in the Wrestler. Another big thing was how we got a new, stricter district manager and that led to a big "shit rolls downhill" environment in the store. Everything became more corporate and less fun, even though we were a store that consistently met our goals.
I can bore you with specifics, but one of the big things was selling the membership. Or more importantly, selling new memberships. We had quotas on that and the increased pressure made it unbearable due to the "lead a horse to water" mentality of it all. Even if you had a good week, it didn't matter because maybe next week you don't do so well and you get talked down to for your failure. I had my opinions on it and I had my own methods of motivation, which got results. Those got me in trouble to the point of being told I was on thin ice.
Initially, I became emotional. I was afraid for my job and I felt that I was one misstep from being let go. I told myself and my coworkers, "I need this job. Barnes and Noble is all I have." Then I calmed myself and realized that that wasn't true at all. I wasn't happy anymore. I used to be, but not anymore. Even if I didn't feel like my employment was in danger, what was I working towards? A management position? I've been wanting one for years, but with my patience for the more rotten customers wearing incredibly thin, all I'd be doing would be dealing with the negative aspects of my job for a little more pay. Nah, I needed to just secretly find a new job and then give my two weeks.
The moment I made that decision, I felt so free. It was amazing. I was quick in finding a place that wanted me and was able to say my goodbyes and move on. It was a good thing too because while I certainly had my problems with the place's new direction, I wasn't the only one. In the month or two surrounding my leaving, there was an exodus of like a dozen employees for a variety of reasons.
Oh, and they changed it so that people can only apply for jobs there via online and that slowed down the process so much that it was like four months before they finally filled my position. Jesus.
This year, I didn't have to deal with all the holiday madness. Sure, my current job got pretty busy in the last week, but it was a drop in the bucket compared to B&N making $7,000 an hour in sales. I didn't have to spend hours cleaning up messes of people who decided to take out ten books and leave them in a pile in the café. I didn't have to endure the impossible parking and extended hours. I didn't have my Christmas ruined because I'd need to get to sleep early and wake up at 4am because I was scheduled for a 5am shift on the 26th. I also won't have to deal with two months of assholes wanting cash back for a gift that somebody else bought them with a gift card.
As a way to celebrate, I thought I'd tell some stories. I have a million tales from that establishment and since they most certainly didn't want me mentioning them while I was on the payroll, I guess I might as well have some fun. These are just some from the top of my head.
– I once gave a piggyback ride to a customer. It was a weeknight and the place was pretty dead. I was at the information desk and a couple showed up to ask me about a book.
"It looks like we have it."
"Can you show me where it is?"
"Hell, I'll give you a piggyback ride if you want."
"Okay."
"Really?"
"Yeah, sure."
"All right, then. Let's do this!"
Then I walked over, had him hop on my back and walked him over. He proceeded to give me a $5 tip. I went back to the info desk, feeling pretty good about myself. Then I saw that the next customer was like 300 pounds and knew that wasn't going to be a repeat.
Later on, I was reading my horoscope and it said that I'd make a small fortune in an unorthodox way. Swear to God.