January 25th, 2011 Posted by Gavok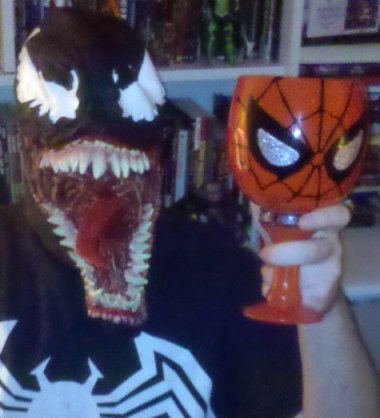 It's been quite a while since my last We Care a Lot article and even longer since I had a Venom article that was about actual Marvel canon. Over a year, in fact. Even longer when it comes to a canon article about Eddie Brock! For forever, I seem to have been sitting on the potential Anti-Venom entry. Why haven't I written it? Honestly, it comes down to needing a good ending. I've been waiting for that perfect ending to finish off the article. And, well, you'll see how that went…
We all remember the infamous One More Day/Brand New Day status quo change. Devils and Harry Osborn and whatever. The whole thing's been beaten into the ground to the point that I might as well skip it. The short of it is that I decided I was done with Spider-Man in general and despite all the claims of how great the series has become, I would simply put it at the bottom of my list of great things I should be reading. I wasn't going to fast on it completely, since I agreed to myself that I would still check out any issue that included one of my favorite characters. In this case, those would be Eddie Brock, Deadpool and Juggernaut. The first one matters the most here, though I suppose Deadpool's issue plays a role too.
The story New Ways to Die begins eight months after the new status quo of three issues per month. It starts off at Amazing Spider-Man #568 and ends at Amazing Spider-Man #573. It's got Dan Slott on words and John Romita Jr. on art.
Of all the various plots going around, the two of importance for me are that of the Thunderbolts and Mr. Negative. The Thunderbolts is in its Norman Osborn phase, where the team is made up of Songbird, Moonstone, Swordsman, Bullseye, Penance, Radioactive Man and Mac Gargan as Venom. For one reason or another, Swordsman, Moonstone and Penance get the story off. They've been training by attacking motionless dummies for the sake of going after those who are unregistered. Venom goes nuts and starts tearing into all of them. Before Songbird can chastise him for it, they're given orders to head to New York.