July 24th, 2010 Posted by david brothers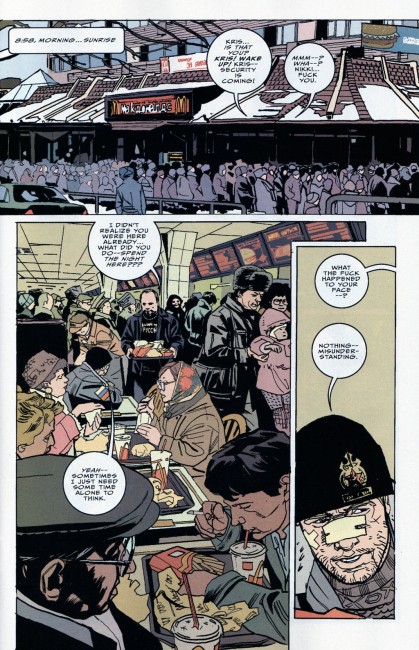 -Shortest version: read Sean's post.
-The short version is that The Winter Men
is like Watchmen, only genuinely fun to read. It doesn't need rigid formalism or a fractal narrative to keep you going. It doesn't have a cast that is entirely unpleasant. It doesn't need them. As far as stories about washed up old superheroes goes, Winter Men beats the pants off Watchmen.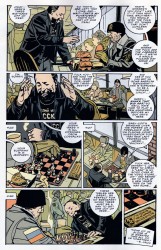 -The other version is that Winter Men takes on one of the most tired stories in the world and manages to do something magical. Everyone has read stories about heroes that are past their prime and broken emotionally. Watchmen did it well enough, but at this point, it's been copied so often that the impact of the original has been diluted. It's become a status quo, or a regularly used tool, rather than a new and exciting twist. It's like–okay, we get it. Superheroes are human, humans are terrible, shut up talking to me.
But Winter Men. Brett Lewis, John Paul Leon, sick letters by John Workman, Dave Stewart on colors… this is the real deal. This takes human heroes and puts them through a lot of the same drama other, lesser books did. Kris Kalenov is a drunk, his former friends see right through him, and his superiors see him as a tool, rather than a person. He's something used to apply pressure, whether he wants to apply it or not.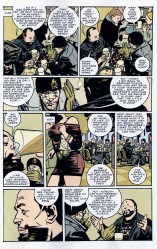 -The difference with Winter Men and a lot of stories of its type is that it isn't there to dwell on the misery of its characters. Sad things happen, Kris's relationship with his wife is crap, his friend Nina is skeptical of everything he says, he spends a lot of time in the bottle, and he cold punches his girlfriend in the face at one point, but that's just part of it. Instead, Lewis and JPL are knocking out stories of his life. It's not about trying to be realistic or dragging these people down out of the heavens. They're already out of the heavens, and this is about what happens after.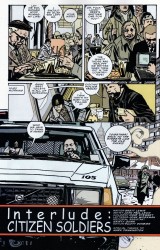 -In a sideways kind of way, it puts me in mind of Joe Casey's Wildcats and Wildcats 3.0. The two series were set after the heroes were stripped of their cause and left aimless. It was about their search for a new quest and the way they dealt with the hand life dealt them. Not about their fall, not about their misery, and not about how much it sucks not to have a war. It was about finding something new. There was a cause here. It's gone now. What's next?
Kris Kalenov, at some point, stopped looking for the next. Winter Men is the story of what happens when someone else's next finds him.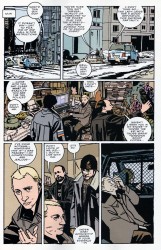 -The art is astounding, but I can't do any more justice to it than Sean did. Just believe that John Paul Leon is a powerhouse, and anything he draws is worth cover price plus tax at the very least.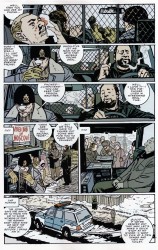 -There's a lot to like in Winter Men, but I think that my favorite is the fourth chapter. If they published an issue of Spider-Man like that chapter, fans would complain to the heavens that "nothing happens!" Those fans are stupid. The fourth chapter is just a day in the life of Kalenov and his old friend Nikki, a gangster.
It's just this stupid thing, following them around while they argue over Big Maks, talk about their marriage, and run wild over Moscow, but it's fantastic. There's enough sublime moments in this one issue to fill a hundred issues of other comics. There's the time when this nerd pops off at the mouth and demands to know by what authority Nikki and Kris are hassling him. The very next panel is him in the back of a truck nursing a bloody nose. Or when Nikki admires a table in the Russian McDonald's and then they come back later to steal it.
It's an issue about nothing, but it's really about everything. This is their life.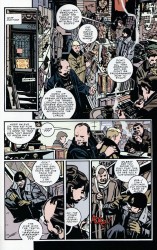 -The big blue guy in Winter Men is way cooler than Manhattan.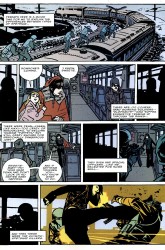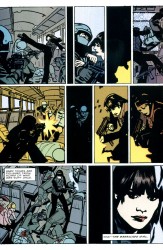 -I would read an entire series about Nina, "The Barricade Girl." I mean, you thought Black Widow was the dopest thing to come out of Moooseandsquirrel spy shenanigans, but Nina is something else. She's one of the "Olympic-Spetsnaz Killers." That? Right up my alley. I'd settle for Brett Lewis just kinda leaving messages on my voice mail about her adventures and maybe JPL doing a weird squiggle that looks kinda like a jump kick.
-Again, John Workman's letters? Killer.
-"I did everything I was supposed to. I followed orders. As a man, I carried joy and suffering evenly… and I only wanted what a man can expect. But if I can not have these regular things… I will instead have murder."