April 27th, 2009 Posted by Gavok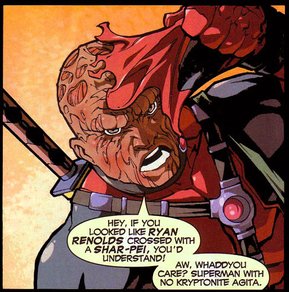 Holy… I can't believe I never noticed that line before. That's awesome!
And now, the countdown.
60) Zombie Double-Cross
Deadpool (v.2) #4-5 (2009)
Writer: Daniel Way
Deadpool is unfortunately running into an annoying habit of his writers doing the same story again and again. Between the story in question, the Game$ of Death one-shot and the current Suicide Kings miniseries (all within a couple months of each other), Deadpool has been tossed into stories where he's hired to do a job for a million dollars, only it's all one big set-up. Come on, guys. Mix it up every once and a while.
That said, I really dug the end of the first recent story to do this. As part of the new series by Daniel Way, Deadpool is hired to rescue a rich former mercenary's wife from a corrupt plastic surgeon Dr. Lovosno and his faction of zombies. As it turns out, Deadpool himself is payment from the rich guy, as the zombies can feed off of him forever. In theory. In actuality, Deadpool takes horrible to cannibal types, so that idea's in the crapper. He sets up a way for Lovosno's zombies to feed on the traitorous merc and his henchmen, only he backstabs the zombies too by slipping out and blowing up the entire area.
Lovosno's head lands near Deadpool, whining about how Wade betrayed them all.
"Duh!"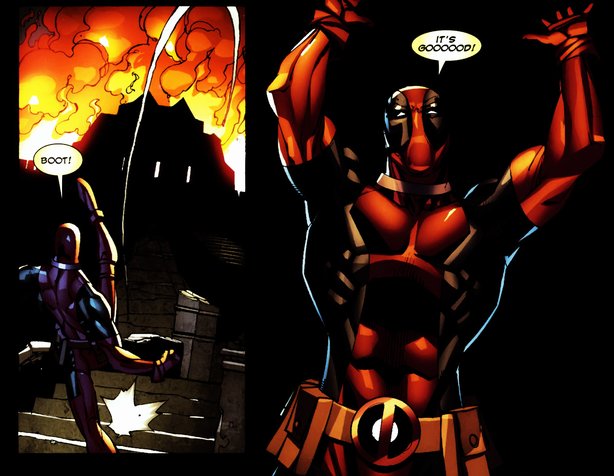 Maybe I just find something really funny about kicking disembodied heads that can still talk. Like in Waterboy.