November 9th, 2009 Posted by Gavok
Last time, I discussed the first few issues of Chaos Comics' Undertaker, as well as the specials that came from it. The Undertaker, Paul Bearer and a newly-created character the Embalmer each hold a Book of the Dead and are going to war over who can get all three Books and become the ruler of Stygian, Hell's prison. Meanwhile, Kane is sneaking around, watching the Undertaker and Mankind is able to see that some of the wrestlers in the WWF are really demons in disguise.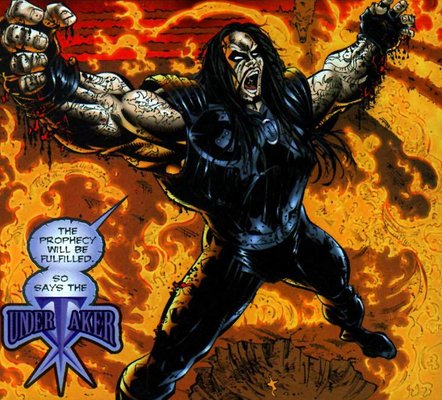 Just for shits and giggles, for those of you reading who don't follow wrestling or haven't followed it for long, here's a list of some of the Undertaker's silliest storylines:
– Fought a nearly 8-foot-tall dude who wore a muscle suit with fur covering the shoulders and crotch. Their "epic" battle at Wrestlemania 9 ended with this big dude, Giant Gonzales, chloroforming the Undertaker. This got Undertaker a win via disqualification and they always have to sidestep this fact when they go over how the Undertaker is undefeated at Wrestlemania and show a highlight reel.
– A match was set for Survivor Series of Lex Luger and his patriotic American guys vs. Yokozuna and his evil foreigners. Due to a last-minute injury, they needed someone to step into Luger's team. This spot was filled by the Undertaker, who proceeded to do a lengthy promo that compared his gimmick to what America is all about. He ended it by growling, "Let freedom RIIIIIIIING…" and opened up his jacket to reveal a 1776 American flag stitched on the inside. Lex Luger saw this and got way too pumped about it.
– Undertaker had a match against Yokozuna where you won by stuffing your opponent into a casket. Just about every bad guy in the WWF came out to help Yokozuna by ganging up on the Undertaker and shoving him in the casket. As the casket is wheeled away, the big screen above the entrance shows a camera inside the casket, where the Undertaker promises he will return. Then he (or Marty Janetty in an Undertaker costume) flies off into the heavens on strings.
– The Undertaker delivered a Dominos pizza to Leslie Neilson as part of the lead up for the Undertaker to fight his evil doppelganger.
– The Undertaker had a rematch against Yokozuna, this time with Chuck Norris there to make sure nobody interfered this time.
I can go on with this for days. To be fair, I do really love the Undertaker and he has had his share of kickass moments. Like that time Paul Bearer did an interview from the safety of his own home and Undertaker burst in, yelling, "Did you think I forgot where you live?!" and pummeled the everloving hell out of him. Then it cut to the arena's locker room, many miles away as Kane went into a hysteric crying rampage and Mankind had to try and calm him down. That was neat.