May 17th, 2009 Posted by Gavok
Last time on We Care a Lot, I covered the last days of Venom's solo series. In my last few articles, I totally forgot to cover an obscure comic dedicated to him by the name of Uncanny Origins #7. Uncanny Origins was a somewhat short-lived series where each issue went into the backstory of a random Marvel character, featuring cartoony art by Dave Hoover. Each issue cost only a dollar, so you can't really hate on it too much.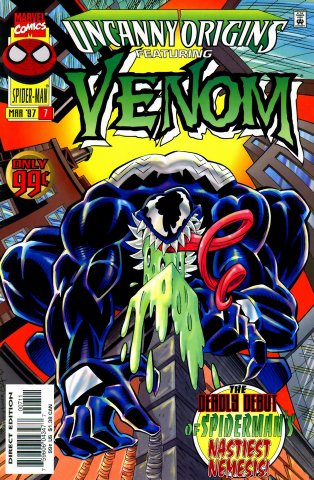 Bob Budiansky writes through Venom's origins and story up to his Lethal Protector days.
"He thinks of himself as a superhero – dedicated to defending the innocent from evildoers everywhere. But the reality is that he is a grotesque parody of everything he believes himself to be, a superhero in his mind and his mind alone… for no good deed he does in the present can ever erase the evil of his own wretched past!"
Aw, come on. Don't be so pessimistic.
The opening couple pages are interesting in that they're new to us. We see Eddie Brock, smarmy as hell, visiting his ex-wife at a restaurant. He's pretty high on himself for his successful Sin-Eater stories, but that just pisses off Ann and makes her leave less than a minute into their meeting. Everything always has to be about Eddie. Eddie defends himself, claiming that he's doing the public a service with honest reporting, but she won't listen.
Then we see Eddie being called to work and the subsequent firing. From there, it shows the events of his first appearance from his side. After his initial defeat, we get a montage page about how he has lost to Spider-Man again and again, until it gets into how Venom is out to be a good guy. It recreates the events where Ann gets Venom to leave Spider-Man alone and that's the end of the issue.
I do like how Budiansky helps bring a little understanding to Eddie's rage by showing another reason the Sin-Eater situation has ruined his life.
Whoa, whoa, whoa! What's this about girls on girls?
Enough of that. Let's get to the real article.