October 24th, 2006 Posted by Gavok
Sorry about that. Real life schedule sort of held me back for a bit. But I'm getting back into the swing of things and we're almost done with this. Just a reminder for the artist types reading this, I could use your help.
20) WHAT IF THE PUNISHER BECAME AN AGENT OF S.H.I.E.L.D.?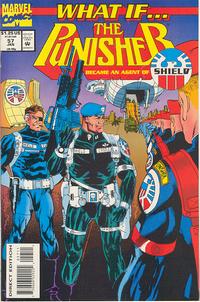 Issue: Volume 2, #57
Writer: Chuck Dixon
Artist: Mike Harris
Spider-Man death: No
Background: There's no exact turning point here. Frank Castle has always been on the run of the law. Every once and a while, he gets caught. In this story, while in prison, Frank meets Nick Fury. Nick has kept an eye on Frank and wants him to lead a SHIELD strike force. No more going after the petty dealers. Now he'll be going after the top drug lords with weaponry Frank's never imagined using. With a choice between that or spending the rest of his life in prison, Frank makes the right decision.
Wouldn't you know it, Frank Castle has never had so much fun. With his hand-picked troops behind him, Frank goes after high profile villains he never thought he'd ever get a chance to go up against. We see as he and his boys go after the Yellow Claw and bomb his drug crop into oblivion. He actually seems far less cynical now, feeling that he's actually in a war he can win.