September 5th, 2007 Posted by Gavok
Where I work, I have a friend there who I will simply refer to as Professor Marc. I won't post a picture of him since he may not dig that. Plus, he is really, really weird looking and if you're reading this while in an early morning stupor, it will really fuck up your day and possibly take you out of the article. So to hell with that.
Marc's level of comic knowledge makes me look like a guy who asks, "What's a Bucky?" He's about eight years older than me and has tons more experience than I do as a comic geek. It's the kind of thing where I mention my "Deadshot's Tophat" articles and he immediately gets the joke of the title. He's the kind of guy that can name every single member of the Superfriends, including the guys that showed up for one episode like Plastic Man, Green Arrow and the ones I still can't recall. In a sad kind of way, I sort of look up to him.
How do you become a comic know-it-all, anyway? I can read a bunch of comics, but it's hard for me to branch out. Picking up something completely random and giving it a read is easier said than done. I could be spending that time reading a really good Justice League run or catching up on Daredevil. Still, I'm a man who loves his obscurity. A lot of the stuff I review on this site is stuff I make sure hasn't been overly reviewed elsewhere on the net. That's one of the reasons I haven't touched the Ultimate Warrior comic. It's old hat.
Professor Marc decided to lend me a hand. From his bottomless comic collection, he handed me nineteen random backissues to help build character. Stuff I would never think of reading on my own. Some issues are from comics I know of. Some issues are from comics I had no idea even existed. Only one of them is an issue that I've even heard of prior. Professor Marc's list has more of a Marvel slant, but there's still a good amount of representation all around.
I've read through six of these issues so far, so it's time for part one of my book report.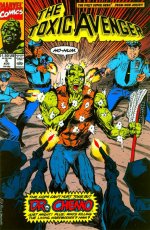 The Toxic Avenger #5
Year: 1991
Writer: Doug Moench
Artist: Rod Ramos
Synopsis: This had to be the first one I read. I really don't have much experience with the Toxic Avenger, honestly. I used to watch the Toxic Crusaders cartoon and years ago I watched Toxic Avenger 3 during one of those weekends when we got free Cinemax. But he is the Steve Rogers of New Jersey, so it's my Jersian duty to read up on him.