June 12th, 2013 Posted by Gavok
100) Marvel vs. Capcom 3 – MIKE HAGGAR
2011
Zangief is great and all, but I never understood why Japan never played up Mike Haggar. Maybe it's a cultural thing where Americans think Mike Haggar is the shit while the Japanese don't find him all that impressive. Cody and Guy got to be incorporated into Street Fighter while Haggar's only been allowed cameo roles (not counting being in Saturday Night Slam Masters). Seeing him included in Marvel vs. Capcom 3 had me stoked.
Beating up Galactus, Eater of Worlds, with nothing more than his bare hands and a pipe, Mike Haggar is visited in his office by Captain America and Chris Redfield. The two are just checking in, but are also a bit afraid that Haggar is burning the candle at both ends. His political career is taking off more than ever and that mixed with being the world's foremost ass-kicker can't be healthy. Haggar laughs it off and says he's fine.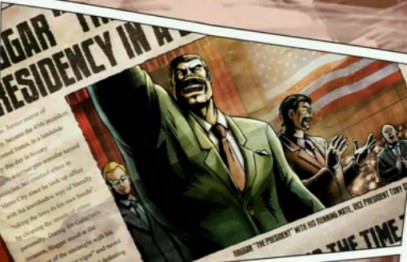 It's spelled out that Haggar has been elected President of the United States with Tony Stark as his Vice President. I'm not sure how this works, considering they're from two separate worlds. Is he President of both versions of the US? Did Stark just make the switch? Is this a separate Tony Stark from the Capcom world? Who knows? Either way, I fully support this ticket.
Haggar explains that as a professional wrestler, he's driven by the roar of the crowd. Whether it's in the ring, on the campaign trail, on the streets or even against galactic super gods, all Haggar needs is the fans cheering him and he'll always have the strength to be the man. Captain America's morale for democracy is pumped up for at least another 20 years.
99) Mortal Kombat 9 – LIU KANG/SHANG TSUNG
2011
It took well over a decade before Midway/Netherrealm Studios could make Liu Kang in any way interesting. After years of being the bland never-loses hero of the Mortal Kombat series, they first killed him off, then turned him into a shambling zombie, then did that non-canon thing where Raiden turned him into Captain Marvel and then found a more permanent fix with the latest Mortal Kombat game. There, Raiden circa Mortal Kombat 1 gets visions of the future and a cryptic message that, "He must win!" At first he figures that means Liu Kang must win, but that doesn't seem to be helping change the future.
Raiden's attempts to alter the timeline lead to acts of buffoonery, desperation and massive death and as it goes on, Liu Kang goes from being mildly annoyed to violently disgusted. Especially when Kitana is killed off. In Liu's ending, he decides that Raiden has to go. He stands up to the Elder Gods and requests that he takes Raiden's place as Defender of Earthrealm. The status is decided via a duel and Liu Kang wins, presumably killing Raiden. He's then empowered by the Elder Gods into being the God of Fire.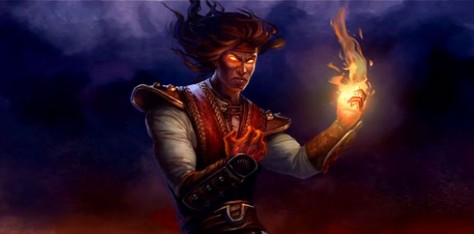 Shang Tsung's ending coincides with these events. He kills Shao Kahn and takes all of the souls Kahn has devoured. Only it's too much for him. Shang's a good sorcerer, but he's overwhelmed and nearly driven to madness. He's about to kill himself when Bo' Rai Cho, the master fighter who once trained Liu Kang, seeks him out at the last second. Master Cho can teach Shang to control his powers and master the souls that are currently tearing him apart. In return, he needs to take care of Liu Kang. Ever since becoming a god, Liu has become a total tyrant and needs stopping. Shang is seen as the lesser of two evils and goes through rigorous training to save Earthrealm via getting his revenge.