April 9th, 2009 Posted by Gavok
At this point in this series of Venom articles, I think it's right to note that whether you like the comics, hate the comics, like the character or hate the character, you have to admit that the whole symbiote idea is, deep down, really original and full of potential. Really, look past the bad stories and you'll see a comic book concept that has so many places it can go. It's like Kryptonian DNA or Multiple Man's powers. Years later they're still coming up with new tricks for them all. The sky's the limit.
Yet, their ideas for characters outside of Venom were never all that creative. Carnage, blood stuff aside is just "Venom but pure evil." Scream is little more than "Venom as a woman with Medusa hair." Where are the ninja symbiote hosts? Where are the quadruple amputee symbiote hosts with spider legs sticking out of their torsos? The Siamese twins? At least our topic today, Hybrid, had enough creativity in his concept to be slightly more than "Venom but a black guy."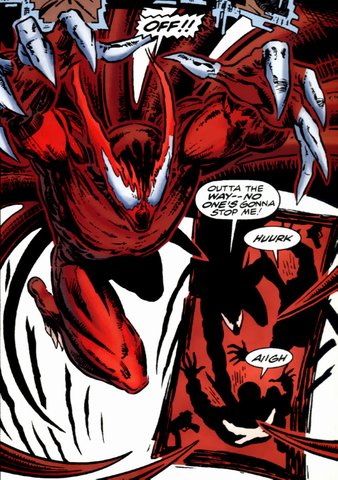 I don't blame you for not knowing who Hybrid is. He's only had a very limited amount of appearances. While he isn't the most exciting Marvel character to fall into obscurity, there are some interesting things that set him apart from his symbiote brethren. For one, human host Scott Washington is actually an established character. That's a bit of a rarity, isn't it? Eddie Brock showed up after Spider-Man got rid of the costume. Cletus Kasady appeared specifically to set Carnage's origin in motion. Donna Diego was a complete afterthought to the extent that they didn't even give her or her symbiote self a name until way after the fact. Even Pat Mulligan, who I'll get to way down the line, was introduced in the same arc that made him Toxin.