November 8th, 2006 Posted by Gavok
Jesus, we're actually at the top ten. And some of you haven't even lost interest yet. I'm proud.
What If: Avengers Disassembled came out the other day. You might be wondering if I would have placed it on this list if it came out several months back. The answer is no. No, I can't really get behind an issue that tries to retcon a major story into something that makes even less sense. Having written this paragraph, I realize the John Byrne jokes write themselves.
Before I start this, one more call for anyone interested in drawing fake covers for the countdown finale. Come on, you know you want to.
10) WHAT IF THE FANTASTIC FOUR'S SECOND CHILD HAD LIVED?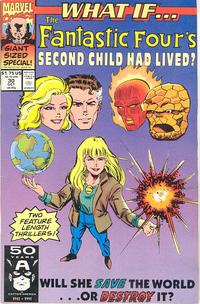 Issue: Volume 2, #30
Writer: Jim Valentino, Ron Marz
Artist: Dale Eaglesham, Rurik Tyler
Spider-Man death: No
Background: In-between having Franklin and Valeria, there was another time Sue was pregnant with Reed's kid. Unfortunately, there were radiation-related complications due to the team's recent venture into the Negative Zone. Reed went to Doctor Otto Octavius – supervillain Doc Ock and the biggest expert on radiation – for help. Ock went berserk for a bit and the two had it out on the rooftops of New York City. Reed calmed Ock down and he agreed to help out. Unfortunately, they were half an hour late. Sue had a miscarriage. So let's say Ock didn't freak out and made it just in time? We have two stories here on two different sides of the spectrum.
The first story is best described as a horror story. Franklin wakes up from a horrible vision of the future where his father is dead. His parents just think he had a simple nightmare and leave it at that, but Franklin already knows that there's a monster living inside his mother. Over time, Sue's pregnancy takes a horrible toll on her. She gets weaker by the day and almost skeletal, soon losing her invisibility powers. When she gives birth to her child, she dies in the process. Reed names the baby Sue in order to deal with the loss of his wife.
As experience has taught us throughout this countdown, this isn't going to end well at all.