October 16th, 2008 Posted by Gavok
Mortal Kombat vs. DC Universe, still shockingly not some kind of prank, is coming out next month. They announced the final roster a few weeks back, sadly shafting the epic Johnny Cage vs. Booster Gold rivalry we've been craving, but other than that, the news has been pretty slow. For the most part, Midway would occasionally release a picture of Raiden pointing at something in a cutscene or something just as trivial.
Recently they brought up two interesting little news items. First off, the collector's version of the game has its own special box art, drawn by Alex Ross.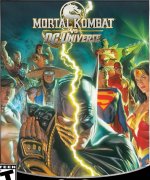 There is something so surreal about seeing the Mortal Kombat characters done in Alex Ross style. I also like Liu Kang's pose there. He's like "Hey! See my fist? This fist? It's for YOU!" Then you have Raiden saying, "Ugh. I can't believe you're wearing those shorts with that shirt," and Sub-Zero has a case of Liefeld Eye. Despite that, it's cool shit.
There's been a video released about the MKvDC comic that also comes with the collector's version of the game. The art is done by MK co-creator John Tobias, who has been out of the franchise's loop for years. To this day, the man's art still holds up.
When you go to about 2:27 in, you get some nice images of the game's final boss: an amalgamation of Darkseid and Shao Kahn.
Conceptually, it's a stupid idea. Personally, I would have rather liked it if Quan Chi used his sorcery BS to make himself the host of the Spectre. The surprise here is that visually, Darkshao Kahnseid looks pretty damn badass. You'd think they they would have gone lazy and put Darkseid in Shao Kahn's clothes or something like that.
Instead you have a demon made of stone (Darkseid) mixed with a skull face and spikes (Kahn) and some evil, glowing energy to add to the aura. It's a nice touch, honestly. Looks like a cross between Doomsday and Brimstone.
It's weird how opposite this whole game is to the Marvel vs. Capcom franchise. In terms of game quality, the winner goes to Capcom. Comparing Street Fighter to Mortal Kombat is like comparing Rocky to Rocky IV. Street Fighter is more legitimate and loved by the hardcore, compared to Mortal Kombat's cheesy fluff. That's not to say that MK isn't loads of fun in its own way.
Yet MvC never embraced the crossover. Occasionally they tossed us something like Hulk talking to Blanka, Mega Man stealing Onslaught's power, Psylocke saving Cammy from Hand ninjas or Gambit flirting with Morrigan, but it was still fairly minimal. By their fourth and final game they just tossed a bunch of characters into the game and figured that was enough. Not only that, but Marvel did nothing with it on their end. No comics or promotional stuff.
Look at what Midway and DC are doing with this. One of comics' top artists takes to the game's cover. Two of DC's writers write the story for both the game and the comic, which is illustrated by one of MK's creators. I'm sure the game's cutscenes and endings will feature plenty of Easter egg appearances and references here and there.
The MvC games may be more playable, but you have to give the style points to MKvDC here.
By the way, to all the people gritting their teeth at Superman and Captain Marvel getting beaten up by guys like Kano: where were you when a little schoolgirl was kicking the crap out of Thanos, Apocalypse and Shuma-Gorath?