May 27th, 2012 by
Gavok
| Tags:
deadpool
,
panels
Aloha. This week I'm joined by Space Jawa, Gaijin Dan, Jody, Was Taters and new fish Brobe. Thanks for the help, guys.
This week marks the end of Irredeemable, Mark Waid's series about a Superman archetype who snaps and goes on one hell of a killing spree. It was an interesting series, but at the end of the day, I'm not sure I can quite call it good. It had a lot of great elements, for sure, especially with the main character. Unfortunately, it got stretched out so long that we got a bunch of stories that didn't seem to go anywhere and supporting characters whose only purpose were to steal panel real estate away from the more interesting characters. In a couple weeks, we'll see how its superior companion piece Incorruptible works out as a full product.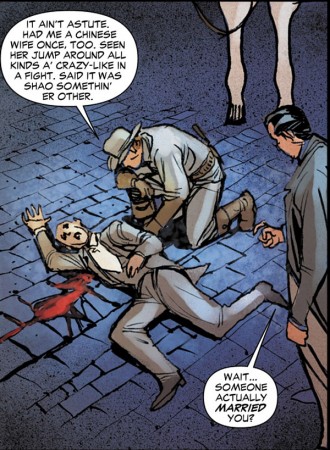 All-Star Western #9
Jimmy Palmiotti, Justin Gray, Moritat and Patrick Scherberger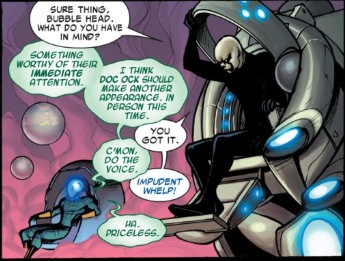 Amazing Spider-Man #686
Dan Slott and Stefano Caselli

Aquaman #9
Geoff Johns and Ivan Reis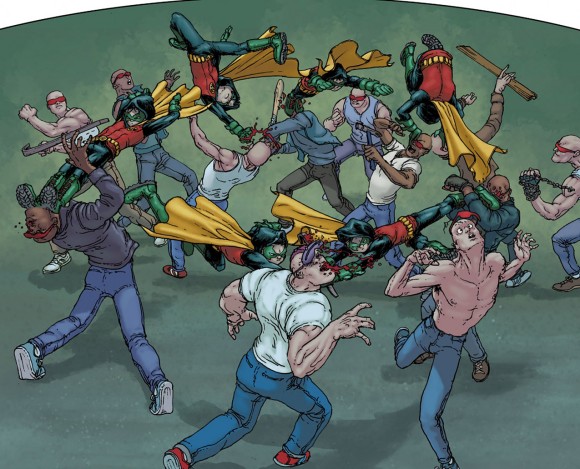 Batman Incorporated #1
Grant Morrison and Chris Burnham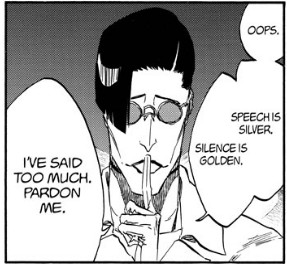 Bleach #490
Tite Kubo

Captain America #12
Ed Brubaker and Patch Zircher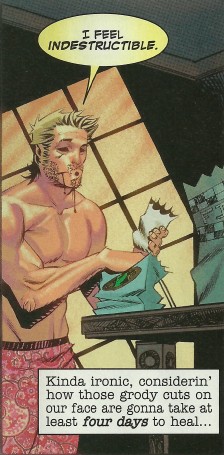 Deadpool #55 (Jawa's pick)
Daniel Way and Shawn Crystal

Deadpool #55 (Brobe's pick)
Daniel Way and Shawn Crystal
Fantastic Four #606
Jonathan Hickman and Ron Garney
Flash #9
Francis Manapul and Brian Buccellato
Green Lantern: New Guardians #9
Tony Bedard, Tyler Kirkham and Tomas Giorello
Hulk #52
Jeff Parker and Carlo Pagulayan
I, Vampire #9
Joshua Hale Fialkov and Andrea Sorrentino
Irredeemable #37
Mark Waid and Diego Barreto
Marvel Zombies Destroy #2
Frank Marraffino and Mirco Pierfederici
One Piece #665
Eiichiro Oda
Rurouni Kenshin: Restoration #1
Nobuhiro Watsuki
Star Wars: Darth Vader and the Ghost Prison #1
Haden Blackman and Agustin Alessio
Toriko #185
Mitsutoshi Shimabukuro
Transformers: More Than Meets The Eye #5
James Roberts and Alex Milne
Ultimate X-Men #12
Nick Spencer and Carlo Barberi
Unwritten #37
Mike Carey and Peter Gross
I got two pointless YouTube links this time around. First is a weird mashup I found that strangely works. Was (Not Was) merged with Rage Against the Machine is… certainly a thing.
Here's another cool video. Something that I found off Comics Alliance. A bunch of voice actors got together, armed with copies of the Star Wars: A New Hope radio play. Scene-by-scene, they'd reenact the first half of the movie in the form of their various characters. So you'd get Bubbles from Powerpuff Girls as Darth Vader, yelling at Jake from Adventure Time as Princess Leia while Pinky is a Storm Trooper. It's pretty amazing, especially once Billy Cosby R2D2 shows up.
Got a three-day article thing starting up tomorrow so check that out.
Similar Posts: