November 2nd, 2011 by
david brothers
| Tags:
Colored Commentary
,
francesco francavilla
,
nick spencer
Here's the solicit for X-Men #20, on sale digitally and in finer comic shops nationwide:
Guest starring Iron Man 2.0! The fallout of Schism pushes the X-Men and War Machine at each other in Eastern Europe asSsentinels are being traded on the black market.
Here's me earlier this year (it feels like forever ago) in an interview with Tom Spurgeon:
And look at Marvel's upcoming Iron Man 2.0. The cover artist, title, and logo are all intended to make it look like it's part of Matt Fraction and Salvador Larroca's successful run on Iron Man. The twist? It stars James Rhodes as War Machine. The same James Rhodes who was just in a series a year ago that bit the dust with issue #12. How is that anything but a vote of no-confidence for black characters in comics? Congrats, Rhodey! You're a major co-star in a big Hollywood blockbuster and Marvel knows that the current comics audience won't even look at you without someone else's logo on the cover.
Related, but maybe not: Bleeding Cool is saying that Iron Man 2.0 is canceled as of #12.
I read a few issues of Iron Man 2.0. It was a Nick Spencer/Ariel Olivetti book at the beginning, but Kano and Carmine Di Giadomenico (who I like a whole lot) pinch hit a bit. I was unimpressed. I was actually sort of annoyed when Rhodey slipped further and further into the background. I hit one issue where Rhodey wasn't in it at all, or on one page or something ridiculous like that. And then Fear Itself hit and the book turned into Cast-Off Iron Fist Characters Monthly (sometimes featuring War Machine). Chris Eckert did a pretty good job of breaking down why that sucks over here.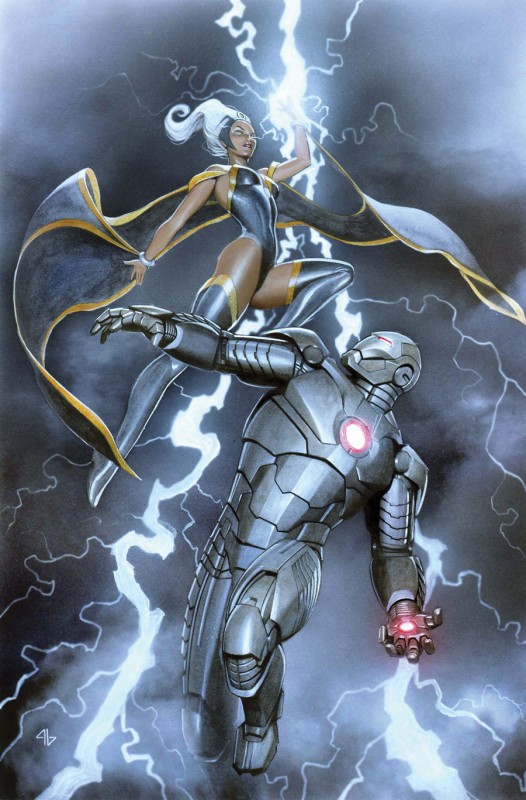 I'm not one of those comics hardliners, either. People who are like "It took Stan and Steve six pages to do Spider-Man's origin and yet Miles Morales isn't even in costume yet in issue three!" are morons. Fights don't have to happen for an issue to be good. "Nothing happened" is a crap complaint. You take a story on its own merits, not by the standards of some time before any of us were born. You could probably build a very good story with the hero/titular character flitting around the outskirts of the book. I think Brian Azzarello and Marcelo Frusin did that pretty well on their last arc of Hellblazer. You can build dread.
The problem with Iron Man 2.0 is that there was no narrative momentum. I never bought the premise of the story. Spencer didn't stick the landing when he was setting it up. As a result, rather than building a mystery, an entire issue about some dude I don't care about or some rip from Chinese mythology was an intrusion, rather than an infiltration. Does that make sense?
If the story is good, you can do whatever you want. Even pirate comics and lengthy essays.
But that's all a sidebar for what I really want to get at, which is referring to Rhodey as "Iron Man 2.0" in solicit text. Yeah, they call him War Machine later, but he's introduced as Iron Man 2.0. He's branded as Iron Man 2.0.
And I don't think anything speaks to the state of colored folks and comics as well as that. Marvel has been astonishingly good at keeping their black characters around. They're miles ahead of their nearest competition. Barring a couple breaks of maybe 18-24 months combined, we've had an ongoing Black Panther comic since like 1998 or whenever Priest started. Bendis turned Luke Cage into a superstar (but still no solo series). Misty Knight has starred in three separate Heroes for Hire/Daughters of the Dragon series in the past what, six years? And she's getting relaunched again this week? Marvel clearly wants this to work. They've thrown everything at the wall and nothing appears to be sticking.
Their new tactic is stripping a character of his own identity and hitching his cart to another character. Iron Man 2.0's entire outward appearance is meant to emulate Iron Man and confuse consumers into thinking it stars a white dude or something, I dunno. Rhodey has been around for decades. He has a fanbase. But it isn't enough. So Marvel is pretending like Rhodey is a subset of Iron Man rather than letting him stand on his own two.
And that sucks. Readers (hopefully) aren't that stupid, and it's so limiting in scope. Rhodey spent the '90s (and several other brief periods of time) attempting to escape Tony Stark's shadow. I'm far from a superfan, or even an average fan, and I know that. To pull him back under that shadow in the name of goosing sales and then to make him a sideliner in his own comic… I dunno. Maybe there just shouldn't be War Machine comics. Or maybe I misread and Iron Man 2.0 is about Tony Stark's world and not War Machine at all.
I've been trying to think my way through how you could spin turning Rhodey subordinate as a positive. I don't think you can. There will always be a connection between him and Stark. That's unavoidable and totally an avenue worth exploring. But at one point, in the text and without, he was his own distinct person. Sacrificing that, in any way, on the altar of hoping to goose sales… I dunno. It seems like such a waste.
Black Panther has a touch of this, having stepped into Daredevil's shoes in terms of title and gimmick. I dislike it for different reasons, though. Black Panther has always been at the forefront of that comic. I think the book is dreadfully average right now, with the occasional dip into stupid (but the art tends toward fire), but that's beside the point. Becoming the Man Without Fear and running a Denny's feels like a step all the way out of the Black Panther's gimmick (king of a technologically advanced isolationist nation who is also smart enough to supply Reed Richards with gadgets), but at the same time, Francesco Francavilla was born to draw him. I mean, can you imagine a hard espionage tale featuring the Panther with art like this?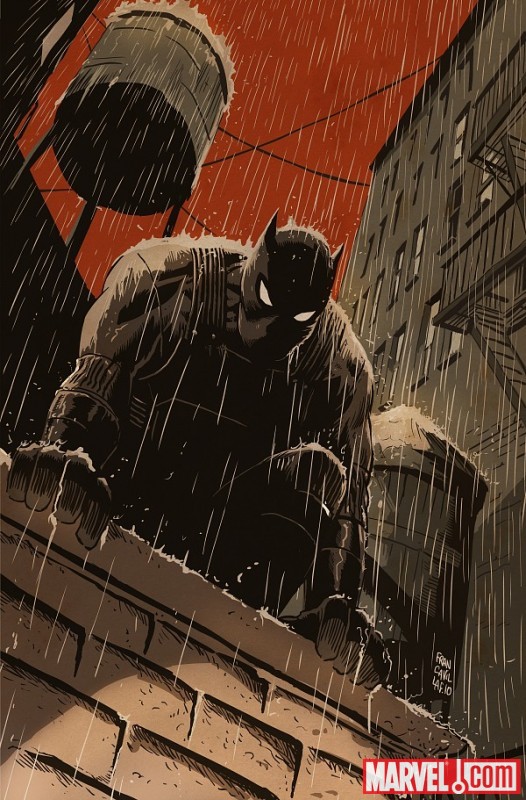 "The Most Dangerous Man Alive."
It's so strange to think of two decades-old characters who have to step into a white man's shoes in order to boost sales. I called Iron Man 2.0 a vote of no-confidence for black characters, and I think that holds true. If they were genuinely viable in and of themselves, they'd star in series of their own, not ones that are strapped to someone else's back. Neither story feels like a particularly organic transition (though Rhodey's status quo over the past however many years has been wildly uneven to begin with). Honestly, I don't buy that either of them are good fits, either. But I can see what Marvel's attempting to do, and in a way, I get it. In another way, it grosses me out.
It seems like you can pull off great portrayals of black characters in team books. Thunderbolts is a treat, and New Mutants, last I checked, was majority non-white. But once you get down into Soloville, you start hitting road bumps. Depressing.
Let them dudes have their own names and identities. Or let them die.
Similar Posts: