October 23rd, 2011 by
david brothers
| Tags:
blu
,
charlotte gainsbourg
,
daas
The Damon Albarn Appreciation Society is an ongoing series of observations, conversations, and thoughts about music. This is the eleventh, and has been converted from a quick email to a friend into a post that is considerably longer. I listen to a lot of music, and this is just a snapshot of where I'm at right now.
Minutes from previous meetings of the Society: The Beatles – "Eleanor Rigby", Tupac – Makaveli, Blur – 13 (with Graeme McMillan), Blur – Think Tank (with Graeme McMillan), Black Thought x Rakim: "Hip-Hop, you the love of my life", Wu-Tang Clan – Enter The Wu-Tang (36 Chambers), On why I buy vinyl sometimes, on songs about places, Mellowhype's Blackendwhite, a general post on punk
---
Graeme McMillan, bka "One Of My Favorite People On Or Off The Internet," sent me a link to "Allez" from French artist Camille's latest CD, Ilo Veyou. I was talking about how much I liked Charlotte Gainsbourg's Terrible Angels
EP, particularly this song:
I've liked Gainsbourg since someone (Sean Witzke, probably) introduced me to IRM
last year. I think he recommended it after I heard and enjoyed the Scott Pilgrim soundtrack? I dunno, it's irrelevant I guess. "I like her, here are some boring words on how I found her."
What I like about "Terrible Angels" is that it evokes a very specific mental image for me. The throbbing sound of the melody (is that the word? the electronic throb and buzz) and the snap of the snare play off each other, and it all ends up sounding like a dance single that's just slightly out of pitch. The lyrics run counter to the snare, too–"I want release from absolution" is delivered as something between a moan and exhortation. "Terrible Angels" sounds like this: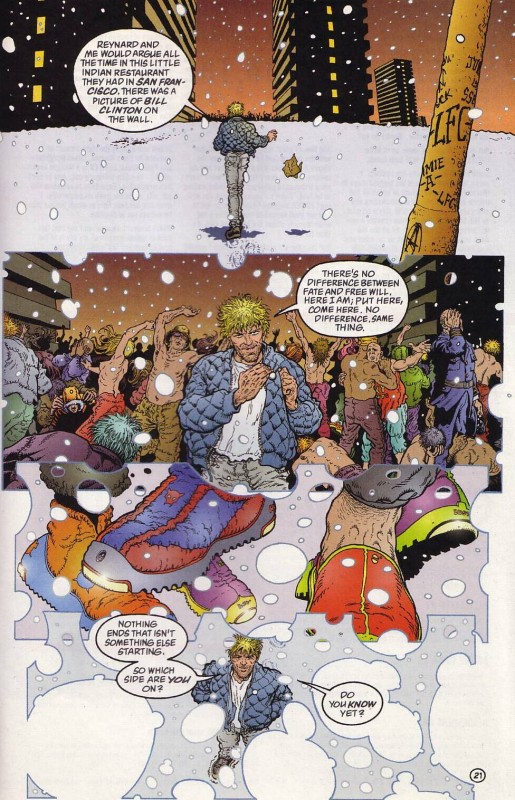 It sounds like the soundtrack to the dance party at the end of the world, as conceived by Grant Morrison and Frank Quitely.
I really like pretty much any song that has an "Oh-I" or "Oh-why" or "Oh-anything" part, really, like TLC's "Creep" or Blur's "Tender". "Oh my baby… oh my bayabeh… oh why… oh my…"
I like "Allez" a lot, too, and it's pretty easy to like, isn't it? I've been really fond of rounds (typoed that as "found of rounds" at first, hey hey hey) since I was a kid, and I like how this one builds in on itself. It's weird, too–she's putting on a voice, right? She sounds younger, but also more growly than she usually does. Maybe it's the backmasking that shows up later in the song. It definitely makes me want to check out her full-length record Ilo Veyou
, which drops physically on Tuesday and hopefully digitally, too. But probably not? Amazon has them listed as Imports, which is a new one by me.
I liked Camille's Le Fil
and Le Sac Des Filles
, but I'm not sure which I like more. Maybe Le Sac, because the first two tracks ("1, 2, 3" and "Paris") are really strong. I'll have to listen to both again to figure it out for sure, but Camille was a really good recommendation on Graeme's part.
I like her voice a lot, though it's a little tough to put my finger on why. She has that throaty lounge singer sound, a little bit, and the fact that it's in French gives it a whole nother level of appeal, like a classy diva sort of thing.
Have you heard Soko? Another French singer:
I first heard Soko on a remix of this song that Cee-Lo did for a mixtape. I like her voice more than the music, I'm pretty sure. Cee-Lo's version is sort of in the same vein as "Fuck You," but I like it a lot more, actually. It's more fun to sing and listen to. "Fuck You" has that edgy feeling or whatever, but this feels a lot more solid, despite being a hodge-podge. In fact, his Stray Bullets mixtape? Better than the album Fuck You was on. Whatever it was called.
I also love dueling love songs like that, too, with both the boy and the girl on the same track. It changes the tone without breaking the tone, if that makes sense. It adds texture.
I've been listening to The Kinks off and on. I don't have a lot to say yet, but I've listened to Village Green, Low Budget
, and Something Else. Something Else didn't make much of an impression after a couple spins, but Low Budget was instantly great. It's sorta melancholy, but still poppy, if those aren't mutually exclusive. You can bop to it while Ray Davies sings about how much it sucks to not have any money.
Maybe it's really corny, but the two superhero songs on Low Budget ("Catch Me Now I'm Falling" and "Superman") are both really good songs and well considered metaphors. And relevant to today, I'd say, but I feel like songs about economic unhappiness are pretty evergreen. There's something about "Catch Me Now I'm Falling" in particular. It doesn't feel like it's about America so much as Captain America–a single person. It's one man asking for help. And to get a little comic book-y about it, Captain America has theoretically always represented not America, but the American Dream. He's an ideal. He's the kind, possibly fictional, side of the empire, and now he needs help, but he's gotta beg for it. I dunno, there's half of something there. There's also a connection in Aesop Rock's "Commencement at the Obedience Academy": "Point: I guess I could spare a splash for a couple of heads/Counterpoint: During my famine I never got broke your bread."
Low Budget is much more my speed, as far as The Kinks goes, I think. It doesn't feel as Faux Beatles as Village Green feels. Which isn't necessarily a criticism, because I do like Village Green quite a bit. But the two albums sound very different, and I like Low Budget a lot more.
David Bowie: I'm still learning. I like The Rise And Fall Of Ziggy Stardust And The Spiders From Mars
a lot, though. I've heard Aladdin Sane
once through thus far and it's… okay? Not as good as Ziggy. Luckily, a friend sent me a Bowie manual, so I expect that to change soon as I explore more of his catalog. Bowie feels like one of those people I should like. I've got a fistful of friends who swear by him.
Esperanza Spalding's Chamber Music Society
is really good. Esperanza Spaulding won the best new artist or best new album Grammy over Bieber this year, which caused a flood of Twitter hate. The anti-hype got my attention, I checked out the album when Amazon dropped it down to five bucks. It puts me in mind of Kassin+2 and some of the more Brazilian-influenced jazz/samba on the Lupin the Third soundtracks by Yuji Ohno.
I like jazz, but I'm far from an expert. I know the greatest hits, right? Past that is a smoky haze of trumpets and unknown singers. I do really, seriously enjoy the Lupin the Third soundtracks by Yuji Ohno, though. I mean, sure, it's the soundtrack to a cartoon, whatever, but they're really well put together and feature diverse influences and sounds. Like "Lupin III Samba Temperado". The arrangement is just fantastic, and it feels like a complete song by the time you hit two minutes in, but then it just keeps building.
Ohno makes great music to write to, too. I bought a fistful of his CDs from a game store in like 05, maybe '03, and I kept them on my computers ever since. I've probably written hundreds of thousands of words to this guy's sound. He's got such a diverse catalog, though I guess all of it can be called "jazzy," that I never get bored queuing up that playlist.
The Brazilian influence on his work is really obvious. He's got a bunch of bossa nova numbers, several more songs that feature Portuguese titles or lyrics, and a lot of samba-ready tunes. He's probably responsible for opening my ears to that diverse Brazilian sound. I like pretty much all of it, unsurprisingly. There's crooning, there's hard drums, there's booty shake dutty wine beats, and more. Fantastic stuff.
Keeping it in Brazil, I really dig The +2's. It's a cool concept for a group, where one person takes the lead and the title per project. I own and regularly spin Kassin+2's Futurismo
, and I need to go ahead and buy Sincerely Hot
and Music Typewriter
considering how much I like them. I've been putting it off for whatever reason–my own wackness, probably.
I discovered The+2's via the cartoon Michiko e Hatchin, a Japanese joint that is custom built for me (girls, Brazil, and crime) but still hasn't managed to get a stateside release. Kassin did the soundtrack for that one by himself, and it's a doozy. Like this joint, from the strip club episode:
It's "Papo Cafajeste," and it goes so hard. Tight flow, great thump, and it's comfortably situated in a long line of songs that use gun sounds to great effect. Bone and Pac's "Thug Luv" is still king, though. The soundtrack is full of bangers. It's another good one to write to, very headnod-inducing.
I didn't intend this when I started writing, but I guess I'm in an international phase. A lot of France, a lot of Brazil, some Brazil/Japan fusion, and a bit of the UK. It just sort of happened, I figure. I have some vinyl coming tomorrow, Blu's Jesus
. It's this noodly, experimental, strangely mixed rap album that's still straight out of Los Angeles. I've been meaning to write about Blu for weeks now, ever since his NoYork! officially leaked (my drafts say I started writing about it on 09/26), and I figure getting jesus on vinyl will kickstart another Blu phase. Matter of fact, I just saw that Blu & Exile's Below the Heavens
, one of my favorite joints, is hitting vinyl later this year. So that's a definite.
I like "My Sunshine" off NoYork!:
My Sunshine | Blu feat Nia Andrews from aaronisnotcool on Vimeo.
This is more or less how I listen to music, though. I spin from trend to trend and back again.
Similar Posts: