June 22nd, 2010 by
david brothers
| Tags:
Batman
,
doug mahnke
,
final crisis
,
flash
,
grant morrison
I reread Final Crisis the other day. I like pretty much everyone involved. Grant Morrison and JG Jones did Marvel Boy together, which is excellent all around. Carlos Pacheco is a good artist. Doug Mahnke should be the only person allowed to draw Wonder Woman ever. I had every reason to like the story, but something in the execution didn't click with me.
Final Crisis feels like less than the sum of its parts. Morrison's approach made for a dense and layered read, but it never quite comes together to be something worth reading. I can see the effort, but the effort isn't enough. The "channel-zapping" style was meant to make the reading experience mirror the events in the book. A lot of stuff is going on, and flipping back and forth from scene to scene, each of them getting only a few pages to breathe, which keeps you disoriented and on edge. It kinda works and it kinda doesn't.
But enough of its faults. Let's talk about a couple things that worked.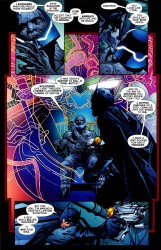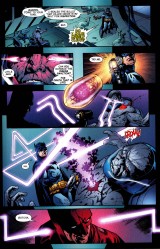 Batman's goal is to avenge the death of his parents by spending the rest of his life warring on all criminals. Batman, like the Punisher, has his choice of two endings to his story. He can either die on the streets or fight forever, eventually drafting more and more people into his battle.
Final Crisis
, though, is the last DC Universe story. It's the story of the time when evil won and good still persevered. Since this is the last story, Batman gets a chance to do the unthinkable. He gets to end his story. He gets to win.
It is a moment that could only happen to Batman here, where all stories are ending. Everything in Batman's life built toward this moment. Batman comes face-to-face with the personification of evil itself, and that dark god tells him that the only choice is evil. Instead, Batman steals Darkseid's idea. "A gun and a bullet" changed Batman's life forever. A gun and a bullet murdered Orion. And then, at the end of the world, a gun and a bullet are going to be used to destroy their master. With a sigh, he accepts that he actually completed his goal. The "Gotcha," and the smile, that's just Batman. Batman doesn't lose.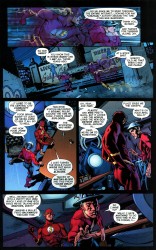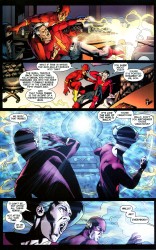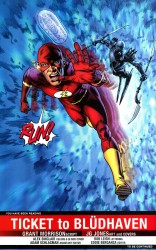 Everything about the Flash, any of them, in
Final Crisis
is dead on. The Flash is the best hero in the DC Universe. He's got the best enemies, best power, and he's flexible enough to work on both a street level and cosmic level. More than anything else, though, the Flash is a confident hero. They're consummate professionals, very experienced, and their very power gives them an edge of everything else. It seems like a contradiction, but their superspeed lets them process things faster than any other hero, which means that they are among the few that can afford to take it slow. They should make being a hero look effortless.
Everything in Final Crisis supports that. The Flashes are supremely confident, they know exactly what they need to do, and just how to go about it. When it comes time to save the world, Barry has a plan. "We start with family." This is what superheroes are about. It's about having the power to protect your loved ones, even, or maybe especially, when the entire universe is being pulled into oblivion.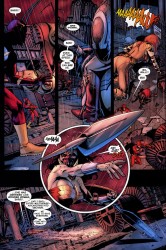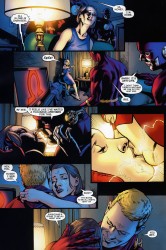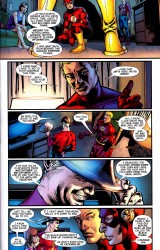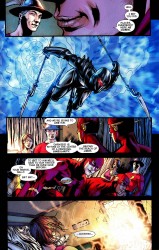 The kiss between Barry and Iris is classic comic book storytelling. How do you cure an evil infection? With love. It's that simple. And after, everything is fine. It's business as usual. There was never any doubt about the fact that everything would be all right.
Similar Posts: