March 16th, 2008 by
david brothers
| Tags:
greg land
,
Marvel comics
,
x-men
I'm with Hoatzin.
I love the idea of Brubaker and Fraction trading off arcs on Uncanny. I'm a Terry and Rachel Dodson fan. I think that they have an awesome style.
The only wrench in the works is Greg Land for me.
I'm not gonna lie– Land has a seriously sick art style. I used to dig it. His characters are realistic, though his action scenes are kinda stiff, but it's aesthetically pleasing. Then I started noticing more and more weirdness. Didn't I see this Storm two issues ago? Wasn't this Wolverine from…? What's with these facial expressions?
Land is a hard sell for me right now. Brubaker and Fraction are writing two of my favorite Marvel books and Land is the thing that will make or break it for me. Marvel released his cover for Uncanny 500 and it looks like more of the same.
Solenna, of SolArts.net, feels the same way, but she's better than I am because she's got proof and no small amount of skill in creating GIFs. Thanks to our own Hoatzin and FBB's David Uzumeri in helping her source. Big ups to her for putting in all the leg work, so go to her site and show her some love.
The GIF's 200-some k. Is that gonna lag anyone out? I figure that we're all on broadband these days, so we can handle it, right? Direct: http://4thletter.net/gregland.gif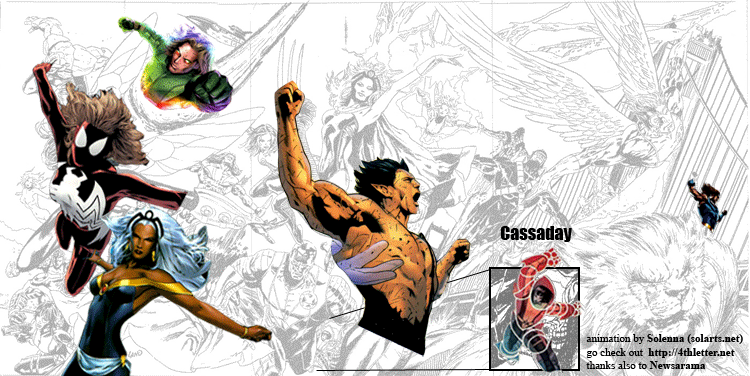 Similar Posts: