August 3rd, 2007 Posted by Gavok
Superhero vs. superhero. Over the past couple years, it's almost become the new status quo in the Marvel Universe and still gets a good amount of play in DC here and there. Whether it's hatred, misunderstanding, bureaucracy or mind-control, it's everywhere. With things like Daredevil vs. Punisher, Civil War, World War Hulk and pretty much any inter-dimensional crossover like Marvel vs. DC, JLA/Avengers and Captain Atom: Armageddon there are many miniseries based on the simple idea of our favorite heroes duking it out with each other.
It makes sense. There's a certain feeling of bragging rights and uncertainty that comes from these fights. If there's a story about Superman fighting Parasite, then there isn't much mystery. We know Superman is going to come out the winner because Superman is our heroic protagonist. But toss him in against another heroic protagonist like Captain Marvel, Martian Manhunter or Green Lantern (on a good day) and we don't know what to expect.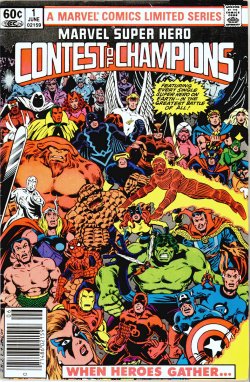 Originally conceived as an Olympic tie-in until the US pulled out of the Moscow Olympics, the Contest of Champions was not only the first hero-on-hero miniseries, but it was the first big crossover miniseries. This is the comic that would set the trend for Crisis on Infinite Earths and Secret Wars. It was only three issues and normal-sized, but I'm sure at the time it seemed really epic. Even now, I'd say the first issue had that feeling. I can only imagine what it would be like back in the 80's to see all these superheroes together in the same room.
The writing credits go to Mark Gruenwald, Bill Mantlo and Steven Grant with Romita Jr. doing the art. So it's got that going for it.