January 30th, 2007 Posted by david brothers
This is going to sound weird coming on the heels of my "Ollie Queen is a jerk!" post, but hear me out.
I love character turns, be it heroes gone bad (Zoom, Batgirl, Eradicator) or villains gone good. It's always interesting to see that breaking point that makes someone change. This post is about a villain who went good.
Paul Booker was a crap villain. He called himself Major Disaster, wore a disaster of a costume, and had a disaster of a career. To be quite honest, I haven't read a lot of his early work just because it looked so awful. He's got on pink gogo boots, a blue body suit, and a lighter blue hood. It's a costume on par with some of Scarlet Witch and The Wasp's worst excesses, but not quite as bad as Susan Richards's negative-space 4 costume from the '90s.
Booker joined the JLA at Batman's request. Yes, the same Batman who gave Huntress the old heave-ho. The JLA were MIA and he had a Substitute League lined up in case of emergencies. Booker so liked the respect that he stuck around on the team and ended up proving his worth. He even made it onto the JLElite, before finally retiring.
Booker's face turn for JLA was more of an "Okay I'm good now guys" rather than a gradual shift, but it feels right. Here is a guy that, in another world, could've been a true hero. He could theoretically prevent disasters, or come up with new ways to research them. The problem is, he's selfish. He decided to look out for number one first and foremost, and ended up crap villain. He's had tastes of the good life during his stints in the Suicide Squad and Justice League Antarctica, but he never hit the big times until the JLA accepted him.
He brings an interesting dynamic to the team for a couple reasons. One, he's a reformed villain. As he says at the beginning of the Rules of Engagement arc, "Vote from the reformed criminal type! If more capes hunted down more bad guys, we'd have a lot less crime!" He doesn't look at things like the other heroes do. He's a very to-the-point, man-of-action type. If there is an easy solution that solves the problem well, do it! Why not?
Second, Booker is a big, dumb lug in the Bibbo Bibbowski/Lobo vein. He doesn't say exactly what's on his mind because he doesn't really think. His brain isn't just not connected to his mouth, it's not connected, full stop.

Case in point. When the Elite gets together, they're masterminded by Naif al-Sheikh, who can best be described as an Arab, male, and chainsmoking version of Amanda Waller. He's got crazy black-ops and intelligence clout, so much so that the JLE gets approval based on his word alone. al-Sheikh sees these men and women as "demons playing in the robes of angels." They terrify him, and that cannot be. He wants them to share a secret so that they can begin to build a trust. He wants them to explain why they fight for the light from the shadows. Booker's response? "I, umm… this is really gay. Can't we just go kick the @&#% out of some bad guys, "sir?"
This man is "Hurrrr!" incarnate! Another example. Booker's been talking about Kasumi, an assassin on the team with something to hide. This scene follows: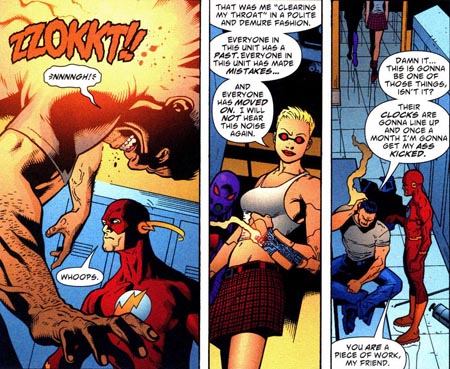 Yes, Booker. You got zapped because it's that time of the month. That is it exactly.
Read the rest of this entry �