September 11th, 2006 Posted by Gavok
Before we hit the halfway point, things are about to get pretty freaking dark. Insert your own Luke Cage/Falcon/War Machine joke here.
55) WHAT IF THE SILVER SURFER HAD NOT ESCAPED EARTH?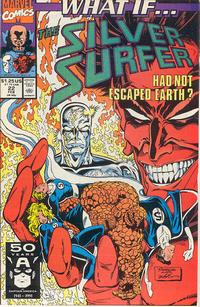 Issue: Volume 2, #22
Writer: Ron Marz
Artist: Ron Lim
Spider-Man death: No
Background: After turning on Galactus, Silver Surfer was punished by being forced to stay within Earth's atmosphere. Whenever he tried to fly off, an invisible barrier would bounce him back in. Eventually, a powerful being named the Champion came to Earth and helped destroy the barrier, permitting the Surfer to travel the universe and experience more adventures. In this reality, the Champion never does come to Earth.
Surfer rams into the force field again and again, still annoyed. The Fantastic Four show up, explaining that they haven't figured out an answer to what's holding him back, scientifically. They ask the Surfer to join their team, since it'll give him a home, something to do and having him around would help Reed's research into how he could break through the barrier. The Surfer thinks about it and takes them up on the offer.
I don't have to tell you that they dominated. We get a two-page spread that shows the Surfer aiding the other four in punking out Annihilus, Dr. Doom, the Frightful Four, and others. It's like God Mode in comic book form. Plus we get this amusing image: